Despite the negative impact COVID-19 has had on the movie industry, Aloma Cinema Grill, a small Winter Park theater, has kept its projectors running. With many major blockbusters delayed and others moving directly to streaming services, big-name theater chains have experienced enormous financial strain and have had no choice but to close locations. Just last month, Regal Cinemas, the second-largest theater chain in the U.S., announced the temporary closure of all 536 of its locations nationwide. Aloma Cinema Grill, however, reopened at fifty percent capacity in June and has continued operating ever since.
"We've got tons and tons of regulars," said Tammy Shrank, general manager of Aloma Cinema Grill. "When they saw we were open, they were thrilled. It's a familiar place and a familiar face."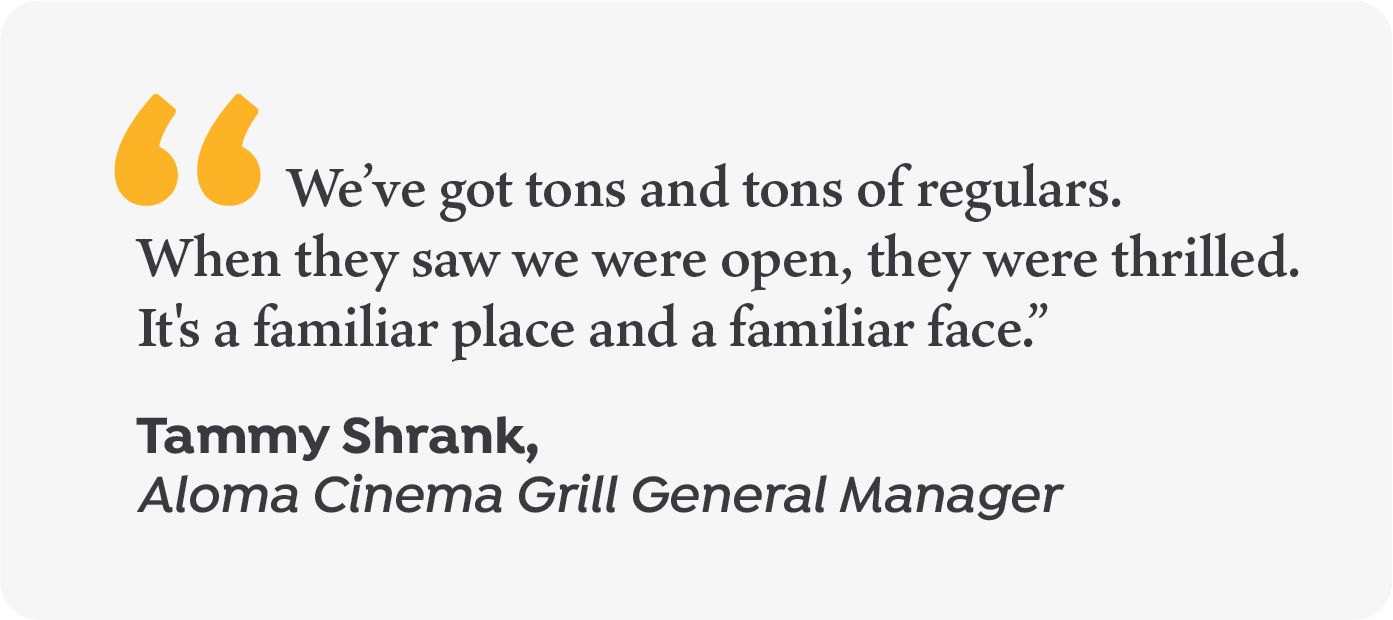 According to Shrank, the theater's small size has been advantageous to the business staying open. With only three screens, Aloma Cinema Grill has been able to obtain and play new movies, while larger chains were hit with multiple delays. "It's kind of hard to bring in new movies when you have 13 or 14 screens," Shrank explained. "Being a smaller theater has definitely helped us during the pandemic."
In addition, Aloma Cinema Grill's expansive menu allows for a true "dinner-and-a-movie" experience, which has kept Winter Park movie lovers frequenting the establishment. "We sell food, not just concessions. Servers come take your order," Shrank said. "People can come get their meal here rather than go to two different places and be double exposed."
Since reopening in June, Aloma Cinema Grill has implemented new safety precautions such as extra cleaning, closing tables, and social distancing to minimize the risk of COVID-19 transmission.
Although the theater has been in business for 40 years, it has remained a hidden gem even to some locals — but possibly not for much longer. "We've gotten a lot of new customers that have been really sweet and loved the service and have said they'll be coming back," Shrank said. "It's a great way to get out of the house and interact with your family while still being safe."