On most weekdays at right around 5:30 p.m. Eastern time, one Winter Park resident is engaging in a curious pursuit. While many of his neighbors are headed out for a jog or to walk the dog, New York Times bestselling poet Billy Collins is logging in to Facebook to read poetry to the world. From his Winter Park home office, Collins is sharing his craft with a variety of viewers via a thoughtful yet light-hearted series he calls The Poetry Broadcast.
Drawing a rapidly growing fanbase of over 50,000 Facebook followers, Collins' broadcasts often welcome a live audience of several hundred at any one time. His viewers share comments of curiosity, appreciation, and gratitude during and after the live broadcast (episodes are also available for asynchronous viewing following their conclusion). Even though the broadcast syncs with North America's East Coast happy hour, viewers from around the world find a way to integrate it into their daily lives. "We've heard from a woman in Paris who tunes in around bedtime and another in Australia [who] has it with her breakfast cereal," Collins shared.   
Collins hatched the idea with his wife, Suzannah, at the onset of the pandemic when she suggested that he could read a poem or two on Facebook as in-person events were beginning to face cancellation. "I'd never done Facebook in my life, but Suzannah suggested we try and do something," he recalled.
Collins began to experiment with the format, starting with short episodes of six to eight minutes in length. As the audience and engagement grew, the husband-and-wife team expanded the approach to include a mailbag and some jazz music samples at the beginning and end of the broadcast. Part of the appeal of the series is in what it avoids: "It's not a class, not a workshop for poets, and we don't read 'comfort poems,'" Collins insists. He recently told the Wall Street Journal that he passes on poems if he surmises they're trying to comfort him.
However, it's safe to say that The Poetry Broadcast is providing comfort, if only indirectly. "People see it as an escape, something different from the news. We're not going to talk about the headlines no matter how bad they get," Collins explained, alluding to topics like the coronavirus and wildfires, which can dominate the day. "As it's grown and we've gotten to know a number of the people from the commentary, they've developed a really strong emotional attachment in pandemic times." Collins is quick to quote Ezra Pound, who characterized poetry as "the news that stays news."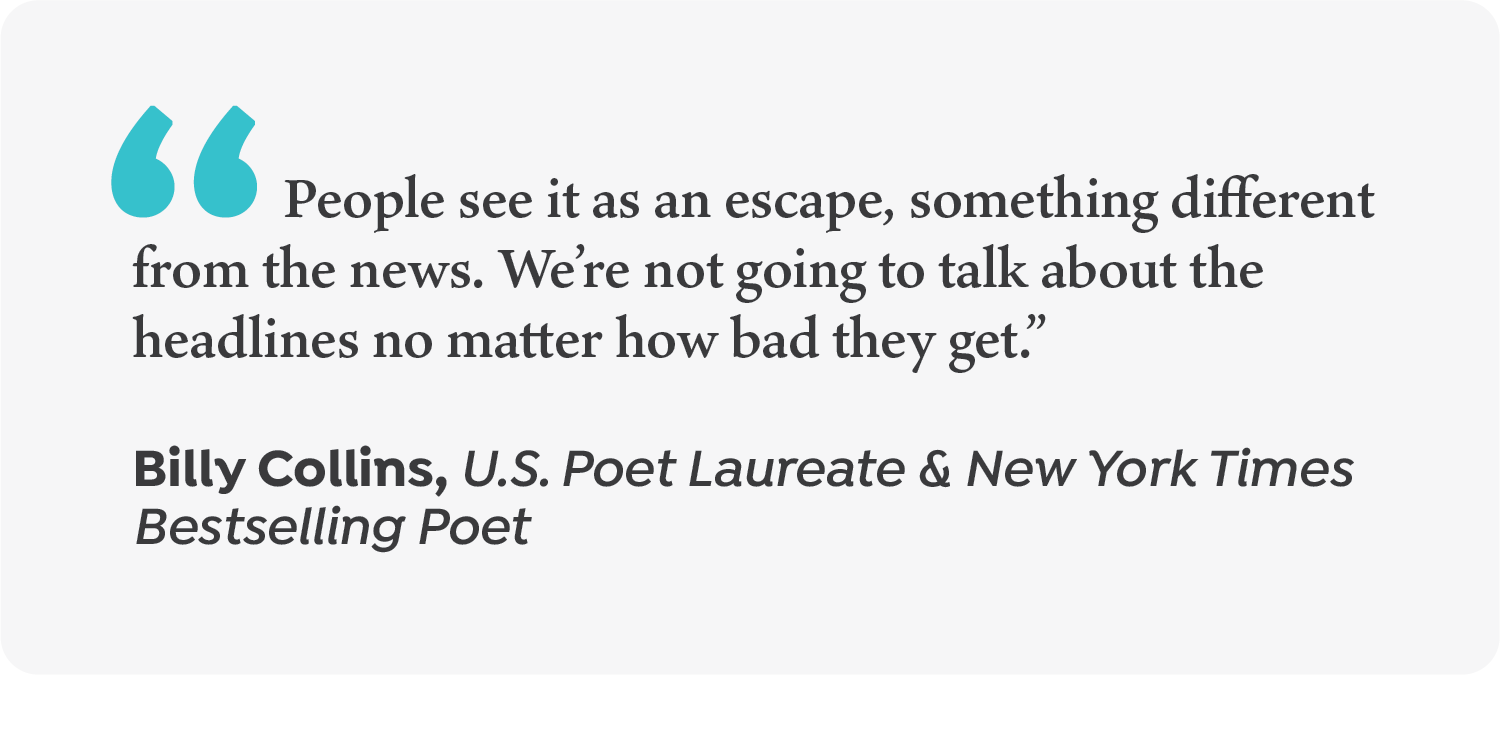 While the broadcast's structure may not require assignments or quizzes, one can't help but learn simply by listening. One recent segment focused on Robert Frost's well-known poem, "The Road Not Taken." Through line-by-line analysis over the course of just a few minutes, Collins explained how the oft-cited 1915 poem was largely misunderstood. "The poem is misread as a testament or cry for individualism: go your own path, don't follow the crowd." By illuminating the poem's sighs, hesitations, and hints of regret, Collins explains how the piece is "really a poem about how we make up stories about our past" and retrospectively characterize our own decisions as "heroic." Injecting dry humor along the way, Collins concludes by reflecting upon society's tendency to oversimplify art that is actually complex. "Where people get into trouble [is when they] try to lift maxims out of poems and sew them into cushions," Collins said. In such instances, the broadcast almost becomes meditative, especially in the midst of this season of uncertainty.
Collins, who served two terms as the Unites States poet laureate, is no stranger to online education about the craft of poetry. Last year, Collins released an online course through MasterClass, a digital learning platform that can only be characterized as elite in stature. Winter Park's own is featured alongside superstars of various pursuits, including chef Gordon Ramsay, actor Steve Martin, musicians Carlos Santana and Christina Aguilera, and athletes Serena Williams and Stephen Curry. When Collins asked how he was chosen to represent the form, he received a one-word explanation: algorithms. It turns out that even poets are measured by big data.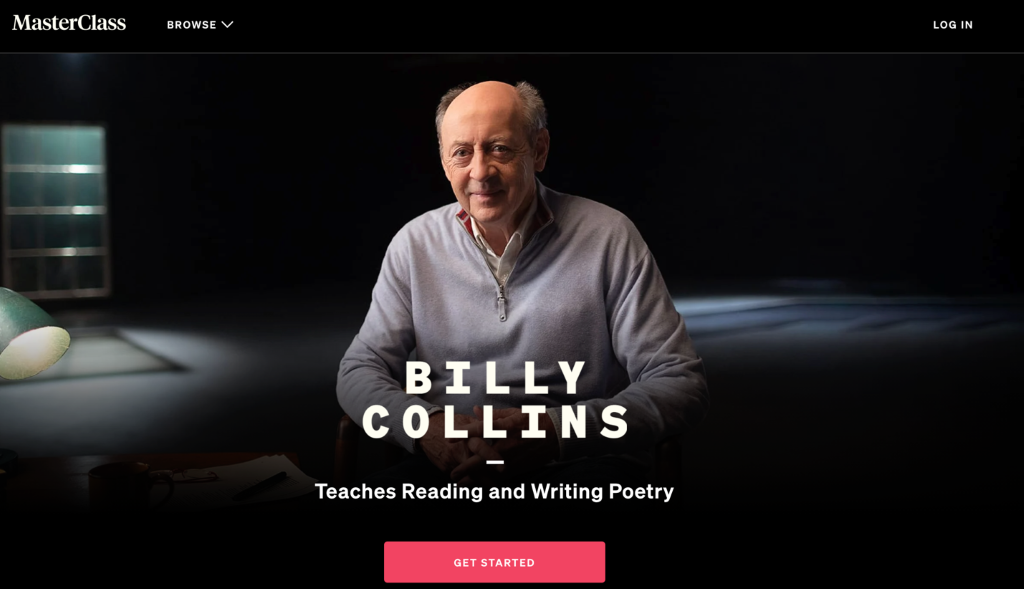 Collins' program coincides with the arrival of his latest book, "Whale Day: And Other Poems", a collection of original poems released by Random House in late September. Collins reads select poems from the book on many broadcasts, all with the help of Suzannah whom Collins happily gives the title "director/producer/writer/hair/makeup/lighting/sound." The repartee between the two becomes half the fun. Though mostly heard and not seen, she steals the show in some instances but guides it in all. At the end of one recent broadcast when time was running short, the author suggested to the crowd that he "might not get to all five." "No, you will because you said you would," Suzannah corrected. The poet read all five.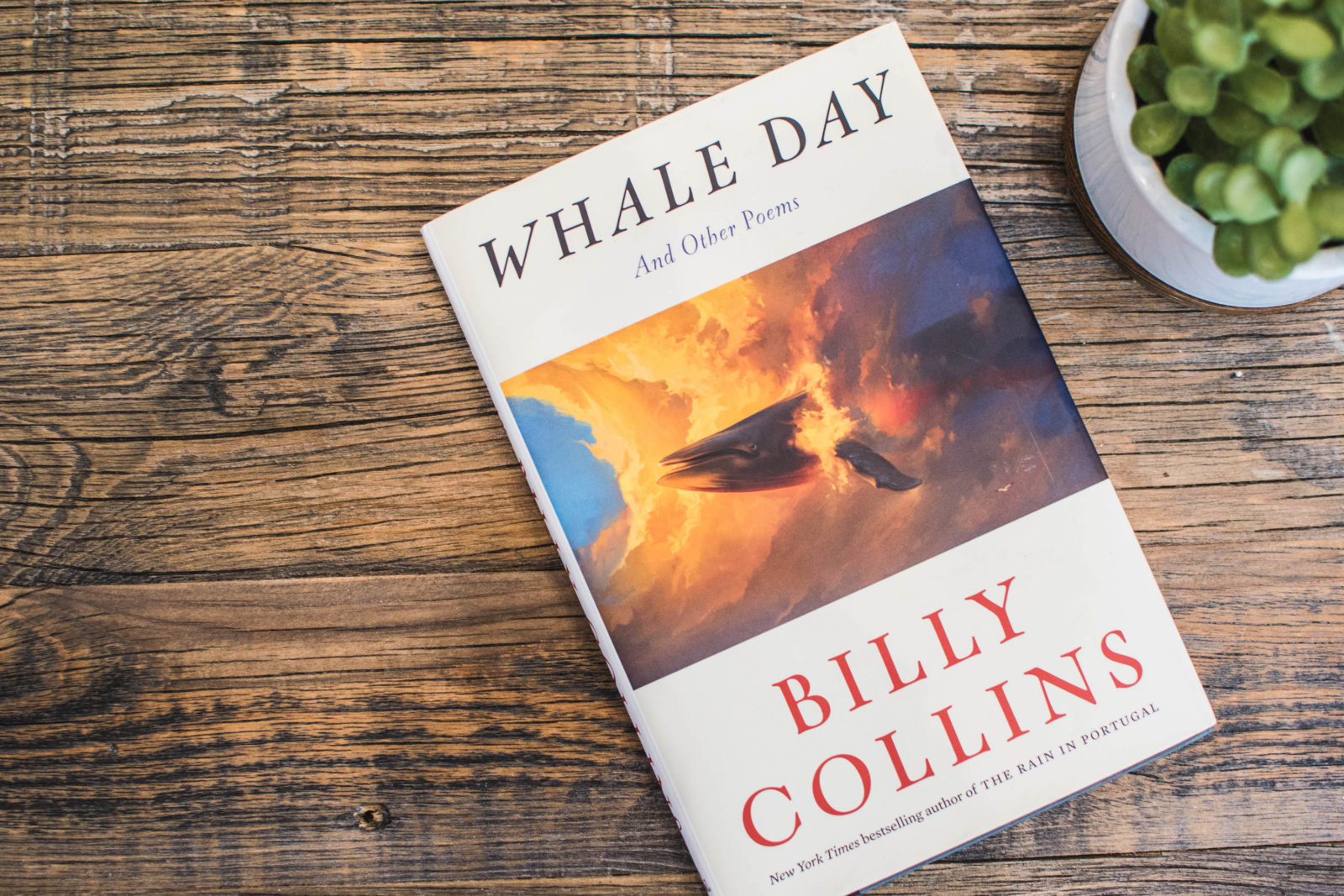 In perusing Facebook comments from the audience, it doesn't take long to realize how much viewers connect with the broadcast. They use words like "glorious," "triumph," and "perfect," to describe the experience, all the while sharing memories of favorite poems, poets, and grade school assignments with one another. The Poetry Broadcast can be found on Facebook at www.facebook.com/BillyCollinsPoetry.