Charlie Bailes is not your average dad. A local executive with a wife and three young children, Charlie Bailes went above and beyond when he began to realize that the health of his family was at risk. Bailes' oldest child, Vivian, began experiencing health challenges at a very young age, which moved him to action. Bailes soon became a committed student of health and years later, has turned his quest for answers into a mission to help other families.
"[Vivian] was experiencing allergic reactions, sickness, and even received an asthma diagnosis at 18 months. It was terrifying," Bailes explained, and recalls wanting to learn much more about health and nutrition. "[It] made me look at everything."
Spurred by his quest to improve his daughter's health, Bailes started to evaluate his own health along the way. A former college athlete, Bailes played baseball and football at Furman University before transferring to Rollins College to focus on baseball. "I was a healthy college athlete, but I was always hurt." Now in his 30s, Bailes saw chronic injuries and ailments beginning to recur and compound. Bailes reflects upon a time when he couldn't hold a cell phone to his ear for more than 30 seconds because of pain in his shoulder.
Bailes often turned to Google for possible solutions, ranging from adjusted sleep schedules to nutrition. His journey to learn more led him to a number of credible experts who were sharing new ideas and different ways of thinking about health and nutrition. Bailes first started learning more about nutrition from Abel James, host of The Fat-Burning Man Show, a health podcast with international acclaim. "I probably listened to 100 episodes that first month," Bailes said.
His research also led him to a book called Deep Nutrition by Dr. Cate Shanahan, a Cornell-trained biochemist, who he credits with "changing [his] life." Shanahan's book helped him better understand the connection between diet and overall health, including some truths he has come to embrace: "sugar is awful, wheat is not great, carb consumption is not great, vegetable oil is horrible, we should eat more protein from meat, meat on the bone, and collagen."
Bailes was a bit taken aback when he stumbled upon collagen as a health supplement. "I knew it as stuff that people inject in their lips and an ingredient in lotion to alleviate wrinkles." A self-described "human guinea pig," Bailes wanted to experiment with taking collagen as a supplement (via bone broth) after learning about it from Dr. Josh Axe, cofounder of Ancient Nutrition. According to Bailes, he saw immediate results. "I was lactose intolerant for 20 years. The bone broth cleanse cured that in 3 days."
"I identified collagen as something I wanted to begin taking especially after learning how important [it] was to the body," Bailes said. "You learn that [the] lining of your gut, tendons, and bones are all made of collagen. My tendon and ligament issues were happening because my diet was so bad. Once I supplemented my diet with collagen, all of my college injuries went away."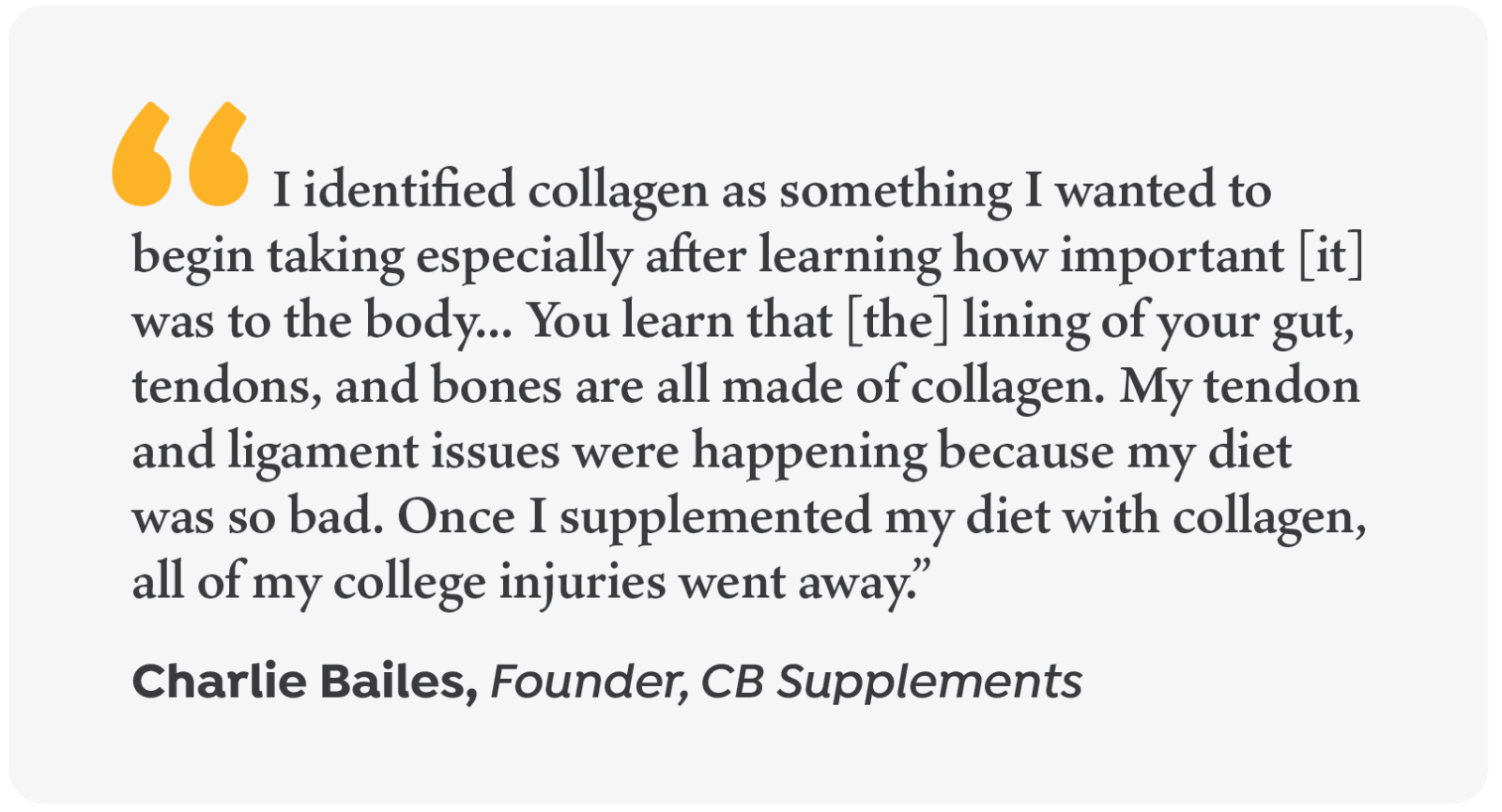 After beginning a collagen regimen with his daughter, her health issues dissipated as well. Now seven years of age, Vivian is the picture of health and vitality, a fact for which Bailes is particularly grateful.
As his health journey continued, Bailes began exploring the idea of manufacturing and selling his own collagen supplements. At the time, Bailes was also studying for his MBA, which happened to be an ideal environment for conceptualizing a business model. "I thought to myself, I could do this," Bailes said, and he began the process of forming his own company, CB Supplements, in 2018.
"I didn't start the business to make money," Bailes, who works as an executive at ABC Fine Wine & Spirits, explained. "I wanted to give a really good product to people because it's transformed my family's health."
Bailes also wanted to help athletes recover from injuries the same way he had and has captured the attention of the athletic community at the highest levels of competition. Kent Matthes, an agent for a number of professional baseball players including Toronto Blue Jays shortstop Bo Bichette and Detroit Tigers pitcher Spencer Turnbull, is an advocate for collagen and the CB Supplements brand. "I recommend collagen to my Major League Baseball clients as I strongly believe it aids in tendon and ligament health among other things," he said. Matthes, a lifelong friend of Bailes and former baseball standout at the University of Alabama, feels comfortable with the CB approach to production: "CB Supplements places emphasis on quality over quantity, which is refreshing."
One recent milestone for the company may prove to be pivotal in its quest to help more athletes. CB Supplements collagen recently earned the "Certified for Sport" designation from the National Sanitation Foundation (NSF), an organization that verifies and certifies supplements for athletes and is embraced by major sports leagues like Major League Baseball. This certification will allow more athletes to feel comfortable using the product while complying with league rules on nutrition and supplements.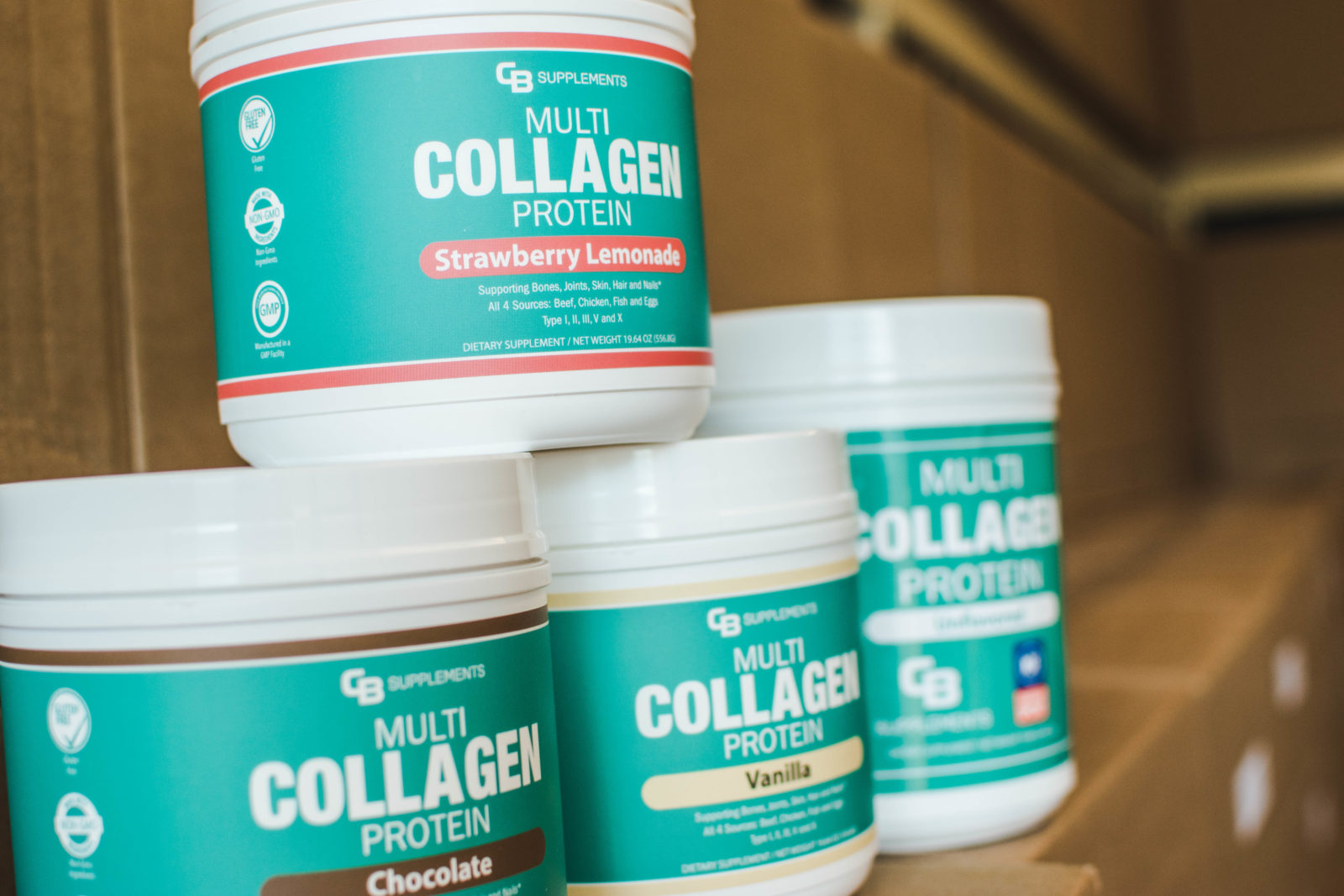 While the business is enjoying impressive year-over-year growth, Bailes is careful not to overstate the benefits of any one health pursuit, including collagen. "It's not a silver bullet, but it's one of the dominos in a link to create better health. Maybe someone's elbow stops hurting and then they start going to the gym. We think that can make a difference." CB Supplements collagen is available online for purchase in a variety of flavors.