Now president of Central Florida Association for Marriage & Family Therapy (CFAMFT), Colette Fehr, LMHC, LMFT, first joined the organization as a graduate student at Rollins College. Fehr was inspired by her professor to get involved. Since becoming a member in 2010 and serving on the board since 2017, she has been president of the organization for two years. Though Fehr hails from New York, she has been in the Winter Park area for nearly 25 years and has made a career as a couples therapist in her own private practice.
Central Florida Association for Marriage & Family Therapy is a professional organization that represents marriage and family therapists and other mental health practitioners in the Central Florida area. These practitioners include social workers, psychologists, and more mental health counselors. "We're bringing people together and helping therapists to develop their professional caliber to the highest level who are then best suited and better prepared to serve everyone living in Winter Park and the surrounding area as clients who need us," Fehr said of the organization. The group is devoted to advancing the profession and practice of individual, relationship, and family therapy in the systemic context by providing development opportunities, continuing education, and providing legislative advocacy on behalf of its members.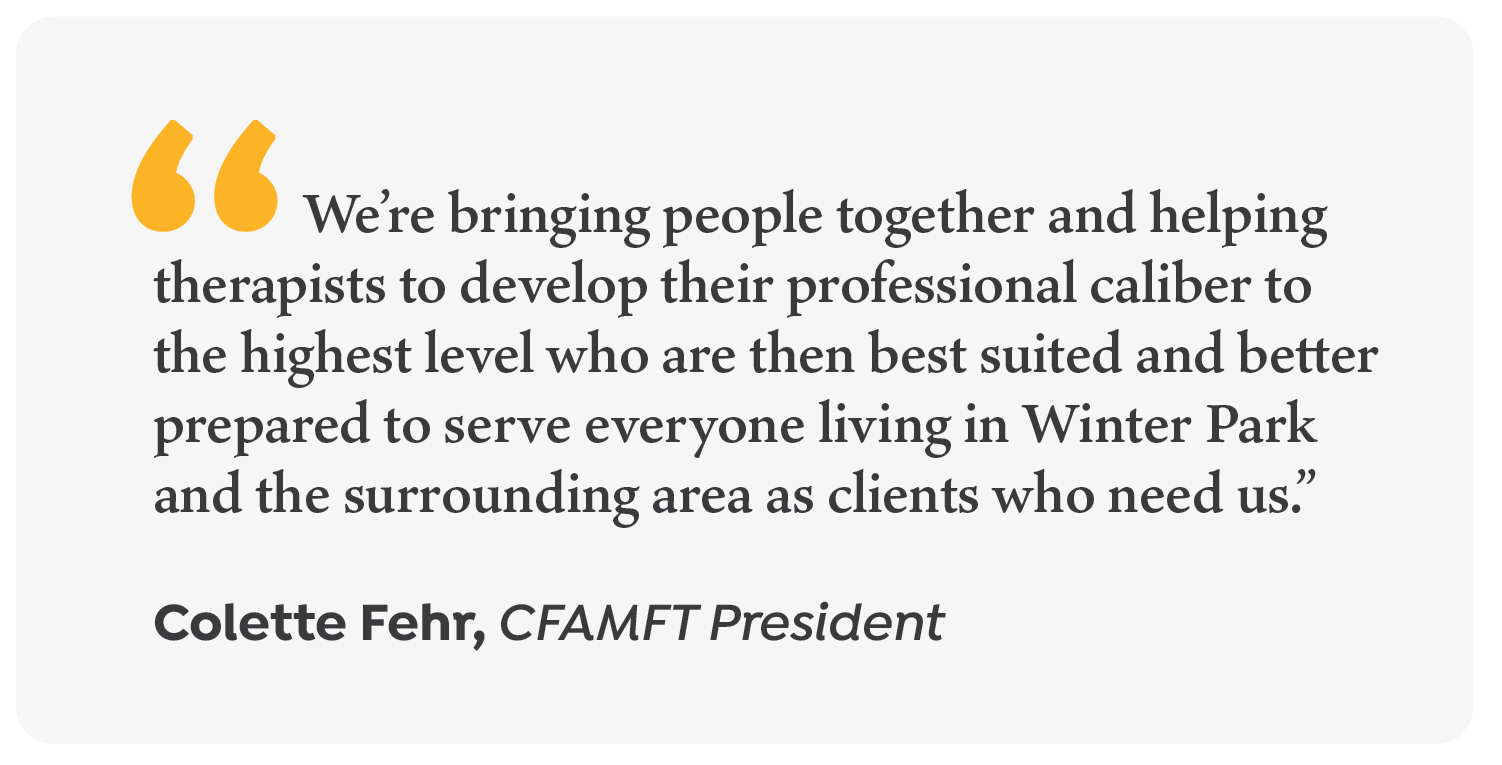 Fehr explains that the systemic perspective accounts for the many systems clients are involved in such as their community, family life, and relationships. So even when working with clients individually, CFAMFT's mental health specialists consider these various systems. "I'm extremely passionate about the importance of that for therapists who are serving their clients to understand that systemic context and that systems perspective," Fehr said.
Like Fehr, many of CFAMFT's therapists operate private practices. She's grateful that the organization provides a space to learn from others in her field and share her thoughts and teachings as well. "This is a place for us to all come together and have our own community and fellowship and share best practices," Fehr said. "So, it's also kind of a home for a lot of us."
Due to the pandemic, CFAMFT has started a virtual community initiative and moved their entire platform online. Although it was an unexpected adjustment, Fehr believes it's working well. Because all trainings, meetings and collaborations are hosted via Zoom, members who couldn't attend due to travel limitations are now able to participate.
As the U.S. enters month six of quarantine and social distancing measures due to COVID-19, Fehr weighs in on the difficulty of navigating the situation. "No matter who you are and how you're doing, this is a very heavy, really challenging time," Fehr said. "It's more important than ever to focus on your mental health and overall holistic well-being." While methods of relaxation and pampering are considered self-care practices, Fehr believes it's so much more. "Self-care is really about nurturing yourself with kindness and self-compassion and taking good care of your own mental and spiritual needs." To prioritize mental health during this time, Fehr recommends that individuals discover what makes them feel at their best that can be done safely amidst COVID-19.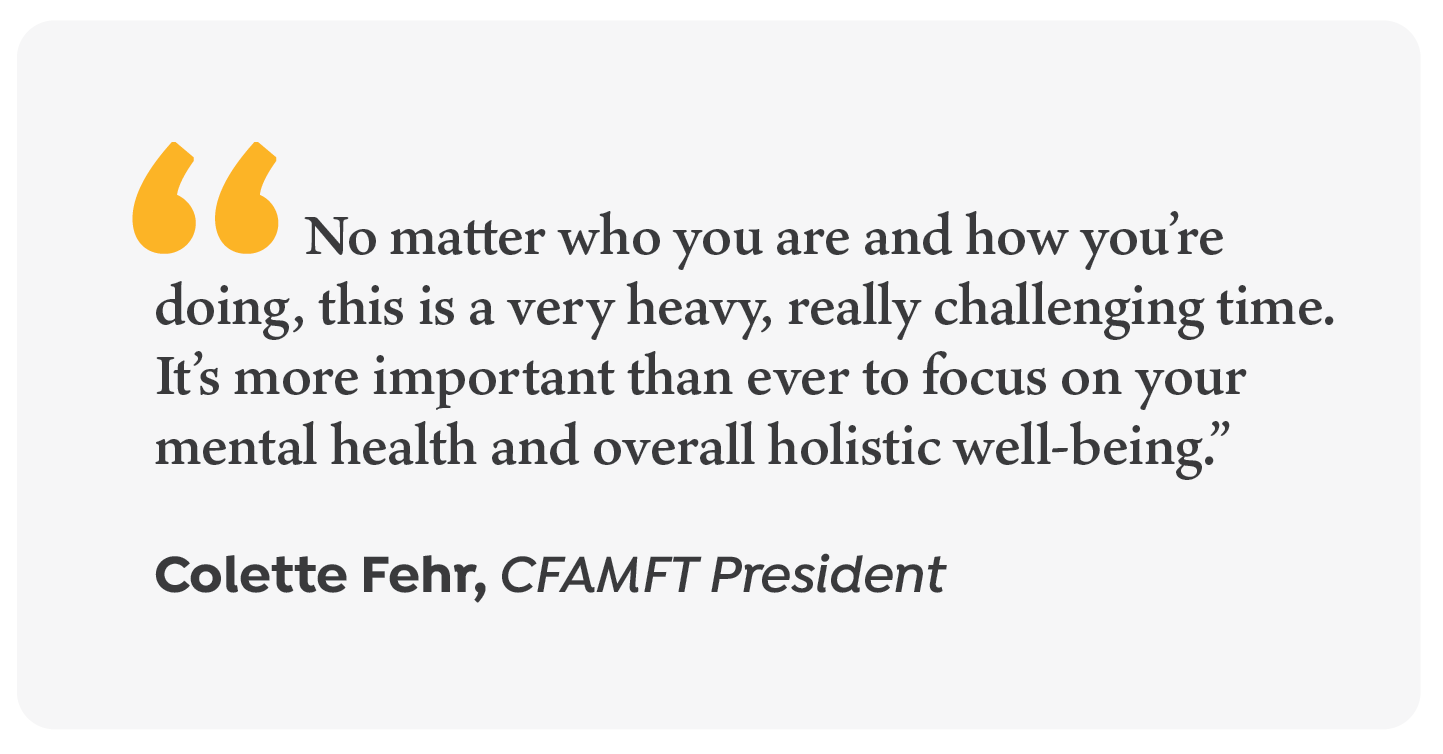 Going forward, CFAMFT aims to continue growing and serving the community with the best practices of the mental health profession. CFAMFT is also committed to increasing its support of anti-racism and diversity. "We want to support practitioners of all colors and ethnicities and all populations and really do more to be in action in the community around that," Fehr said. To have a dedicated focus on ethics, diversity, and inclusion, the organization introduced a diversity chair position to the board about three years ago. More recently, however, they've established new initiatives to galvanize members.
Monthly, members are notified of opportunities to be a voice in the community and actively show support. Their efforts to show support included attending Black Lives Matter protests following the killing of George Floyd. Fehr is determined to continue providing resources to members, be actionable as a group, and grow in this area. "We really want to support the community not just professionally, but also to stand with people and take action," Fehr said.
With over a decade of involvement with CFAMFT, Fehr has an undeniable connection to the organization. She's excited for the people of Winter Park to learn more about CFAMFT and its drive to better the community. "If you do need help or you're looking for resources, go on our website and reach out to any of us, Fehr said. "Even if we are not the right professional, I really feel confident that our members would be there for anybody and point them in the right direction. It can be very, very hard to find the right help for what someone needs at that time and we are here to help."