Heidi Lifrage is a local artist and instructor living in Winter Park. In 1997, Lifrage spent 15 months in Bulgaria and enrolled in an art class. Though she didn't intend on turning her then hobby into a career, her love for the arts blossomed into a full-time business. She's now sharing her craft with the Winter Park community as the instructor and owner of her own studio. "When I moved back to the states, it just stuck," Lifrage said. "I started taking workshops and classes and really putting a lot into it as a hobby."
Originally from Atlanta, Georgia, Lifrage moved to Winter Park with family following her stay overseas and was awed by the city's beauty. Once she settled in the area, Lifrage continued creating figurative and impressionistic oil paintings from her home. As friends and family saw her work, she began doing commission pieces, mostly of her friends' children, and steadily expanded her business through word of mouth. Her passion for painting soon grew to a love for teaching the art form, so she started an after-school art club at her son's elementary school. "I was in about eight schools," Lifrage said. "And I had about 150 students between my art teachers and myself."
Facing school closures due to the pandemic, Lifrage began strolling Park Avenue. "I saw everybody on their blankets and towels and kids riding their bikes and I started taking a lot of pictures." Witnessing the various ways people were keeping busy and championing quarantine on the historic street inspired Lifrage's piece, "Quarantine in Winter Park." Her piece is now the commemorative poster for Winter Park's 2020 Autumn Art Festival and is available for purchase. "I entered it into the contest and that was really exciting," Lifrage said of her experience. "So that was the highlight that came out of this quarantine." Proceeds from all sales will be donated to THRIVE Winter Park in response to COVID-19's impact on residents and small business owners.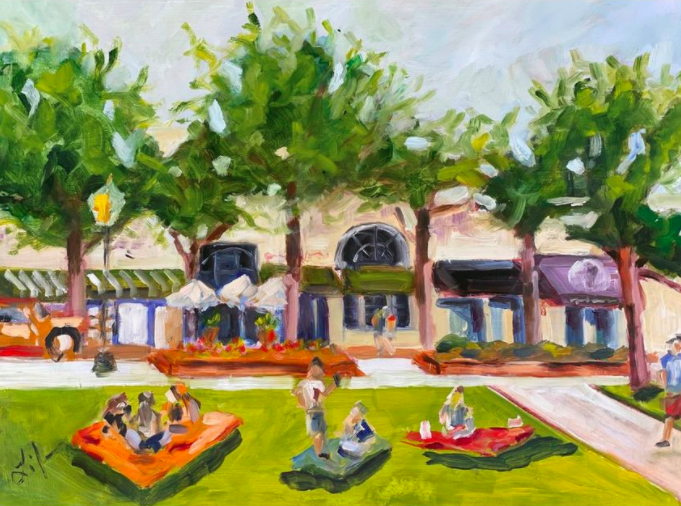 In addition to "Quarantine in Winter Park" becoming the piece featured on the Autumn Art Festival commemorative poster, Lifrage has made her artistic mark within other prominent places in the community. She once donated an original painting of Rollins College to the school in support of a charity auction. She has also painted local churches and done commission pieces for other organizations throughout Winter Park.
To accommodate students during this time, Lifrage has evolved her classes to small boutique studio classes as well as virtual classes until she can resume on-campus instruction. With no more than four students in person, she has been teaching drawing and acrylic canvas classes in addition to virtual instruction on Thursdays. A life-long student of her craft, Lifrage believes in continuing her learning as well as studying skills from different artists. With influence from legendary artists like Frida Kahlo playing a role in her instruction, she has created classes based on techniques specific to certain painters. "I'll concentrate on the specific strong point from each artist and what I want to come across," Lifrage explained. "It might be color or bold brush strokes, or it might be more impressionistic, but we'll just concentrate on the lesson that comes from the artist." 
Though COVID-19 has changed her usual method of instruction, Lifrage is thankful for the opportunity to focus on her craft and time with her family. "When COVID hit, everybody was home, so we had so much family time and time out and about in the community," Lifrage said. "I will always cherish having that time with all three kids at home." With her oldest son recently heading to college, Lifrage felt that having a sense of togetherness was more important than ever. To take advantage of her newfound free time, Lifrage even had a personal challenge to complete a painting every day during the first two months of quarantine. Despite the circumstances of the pandemic, Lifrage says she's determined to be a ray of color and light as she continues exercising her creativity and helping others find their own.