With the fall semester underway, Winter Park students are adjusting to a virtual learning environment – whether they're attending school online or in-person. Lesson plans hinge on students having access to electronic devices, which has become a major issue for those who don't. And although OCPS has been working to issue devices to students in need, there is still a district-wide shortage several weeks into the semester. In response to the shortage, a device drive will be held this Saturday, September 26, from 9 a.m. to 12 p.m. at 1923 Summerfield Road to collect used laptops and tablets to be distributed as needed.
The drive was organized by Winter Park High School (WPHS) teachers, couple Kate Demory and Craig Russell, through their nonprofit, Army of Angels. The drive will be held at the couple's home, where another local nonprofit, the Aeras Foundation, will be on-site to help collect the devices, wipe them of any personal data, and inspect them to make sure they're safe and in working condition for students.
Those who are interested in donating are encouraged to register for the event in advance to ensure proper social distancing. While the primary need is for laptops, tablets, and chargers, accessories like keyboards and mice will also be accepted. Donations can benefit schools outside of Winter Park upon request.
Demory and Russell's nonprofit, Army of Angels, serves as a bridge between local youth who need help and a community who wants the opportunity to give it, supporting children, teens, and young adults who have faced, or are facing significant adverse childhood experiences.
"[COVID-19] has brought to light some of the inequities that we've seen and have been dealing with because the computer shortage really was an issue last year too," Demory said. "It's not really that new, it's just now become essential."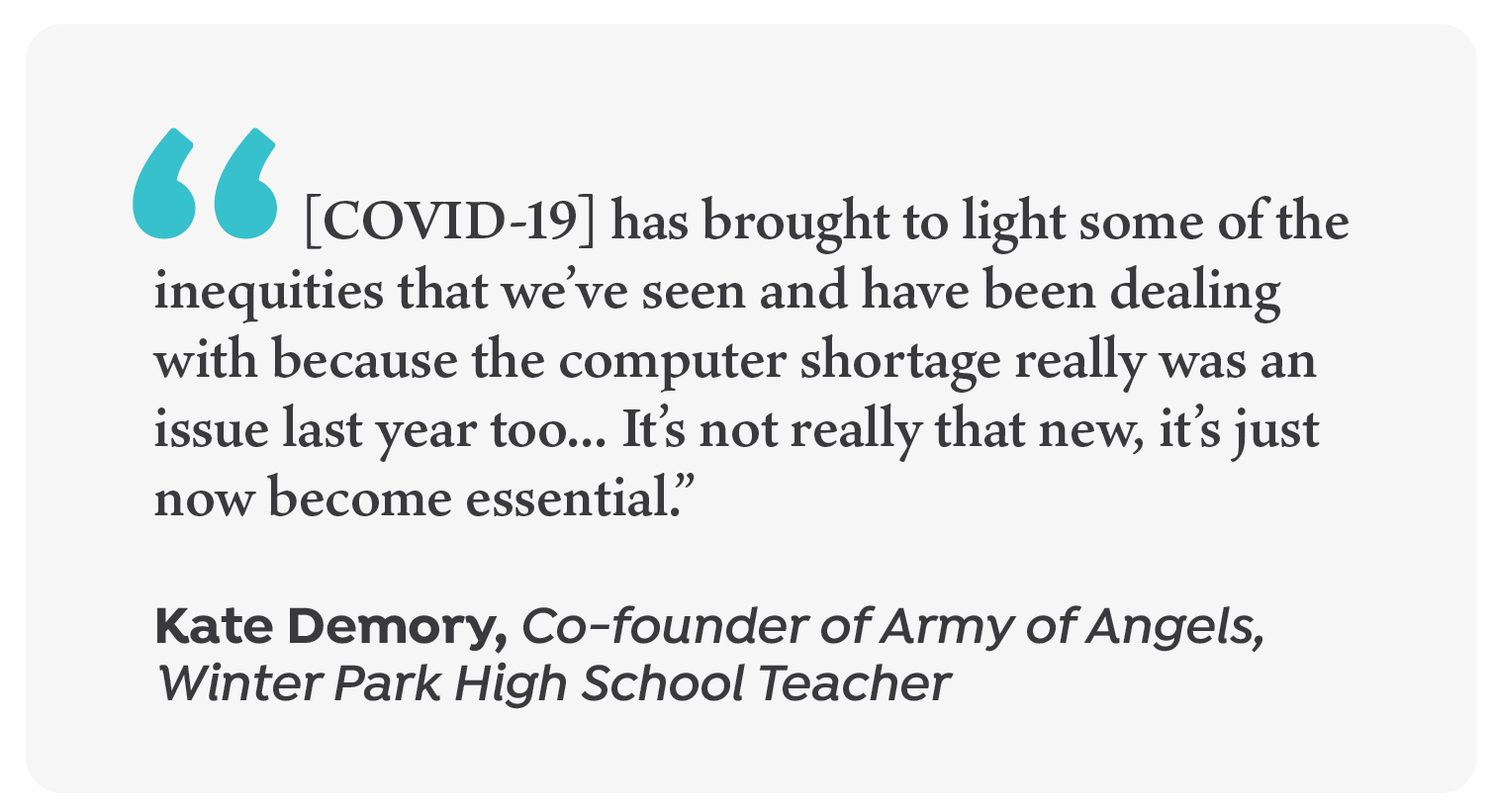 She believes the need for devices is not only an educational issue, but a "technological and emotional" one as well. In a world that's becoming more and more digital, students without access to technology can fall behind in terms of basic employable skills – such as sending emails and participating in video conferences. From a wellness standpoint, Demory explained that it's easy for students to feel like they "don't belong" in the school, much less the education system, when the technology feels foreign and they haven't had access to it.
"When someone is intentional about making sure [students] have a device in the schools and can form those foundations, it communicates a [positive] message to them. And I think that's just as important as the actual device," Demory said. "It tells them that they do belong here, not just the kid next to them who has grown up with a computer."
David Collins, CEO and founder of Aeras Technologies, an Apple-focused IT company, and co-founder of its nonprofit, the Aeras Foundation, was introduced to Demory and Russell through his daughter, a WPHS senior who works with Army of Angels. Collins, whose mission through the Aeras Foundation is to provide students and nonprofits with IT supplies, felt that partnering with Army of Angels for this cause was a "perfect marriage."
"We see such a huge need," Collins said. "What's alarming is that if a student doesn't have the basic devices to learn, it could impact their future income potential. It could impact their decision to move on to college. It could impact their decisions in a lot of things in life."