Mask wearing is one of the top protocols that businesses have implemented to help protect the health and safety of their customers and employees during COVID-19. The added and unexpected cost of personal protective equipment, including face masks, is a burden on many businesses, however, especially during this time of economic unrest. Winter Park National Bank, working with local government, is helping to alleviate that pressure.
In an effort to ease the burden, Orange County's Public Safety director, Danny Banks, is leading an initiative that he began in early May to supply face masks to local businesses using a portion of the County's CARES Act funding. With over 90,000 small businesses in Orange County alone, there is a lot of ground to cover, so Banks sought out a helping hand. He reached out to his friend Sid Cash, senior vice president of Winter Park National Bank, who immediately wanted to enlist the bank to assist however possible.
"Sid has such a positive reputation, particularly in the Winter Park community, and a lot of connectivity to businesses and residents," Banks said. "It was a natural choice to have a partnership with [the bank] to help us reach more people. Our intent is getting these resources out to the hands of [local] businesses and people."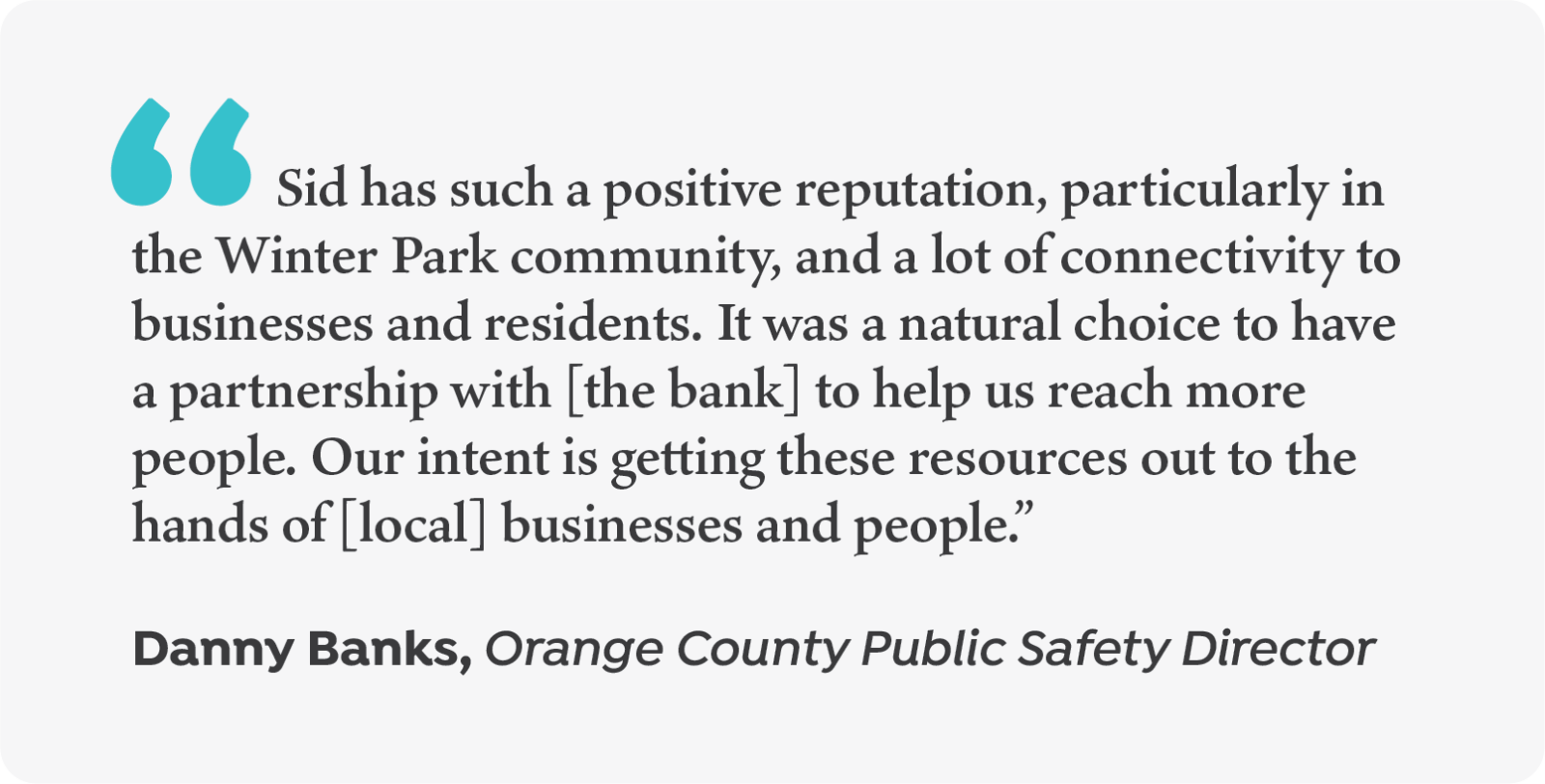 Through its many connections with Winter Park businesses, as well as some in Maitland and Orlando, Winter Park National Bank has helped deliver roughly 1,500 masks in partnership with Orange County to 24 businesses. Winter Park National Bank has helped distribute face mask supplies to restaurants, medical offices, construction companies, salons, and more, including Winter Park High School.
"When Danny told me the County was supplying [face masks], I knew we could help get the word out," Cash said. The bank then took it upon itself to call businesses in the area that might be in need of mask supplies.
One of the businesses that Winter Park National Bank helped facilitate a mask donation for through the County's initiative is George's Café, a restaurant that opened its N. Park Avenue location earlier this year. "Opening our location April 1 in the midst of the pandemic was and continues to be quite a challenge." said George Paul, owner of George's Café. "We are grateful for the assistance and kindness."
Since its inception, the Orange County initiative has distributed over 7.5 million masks directly into the hands of local businesses and residents to help cope with the impact of COVID-19. To remain updated on how and where to get masks or other relief, visit the Orange CARES website.