Even in the midst of a pandemic, the real estate market is continuing to boom across the country, and Winter Park finds itself as no exception.
With the average interest rate on a 30-year mortgage dipping below 3% in July for the first time ever, many local home buyers are looking to take advantage of the historically low rate.
"The demand in Central Florida is going up incredibly," said Scott Hillman, President of Winter Park-based Fannie Hillman + Associates. According to Hillman, his firm saw record months in June and July, writing more than 100 contracts in June, and seeing record volume in July. "We normally see somewhat of a summer lull before school starts," Hillman said. "We did not see that this year."
The demand for homes in Winter Park is on the rise, meaning inventory is moving quickly. According to the Orlando Regional REALTOR Association, there was a nearly 34-percent drop in inventory this July compared to last in the32789 and 32792 ZIP codes, with 332 homes on the market in July of 2019, and only 220 this July. However, new listings stayed nearly the same, with 152 last July and 153 this July, demonstrating how quickly homes are selling.
Hillman sees the low inventory, low interest rates, and high demand as the perfect opportunity for sellers to raise their price points. "This is historical stuff. With inventory down, with the interest rates being so low, [and] with local demand seemingly incredibly high… We've got the recipe for prices to go up," said Hillman.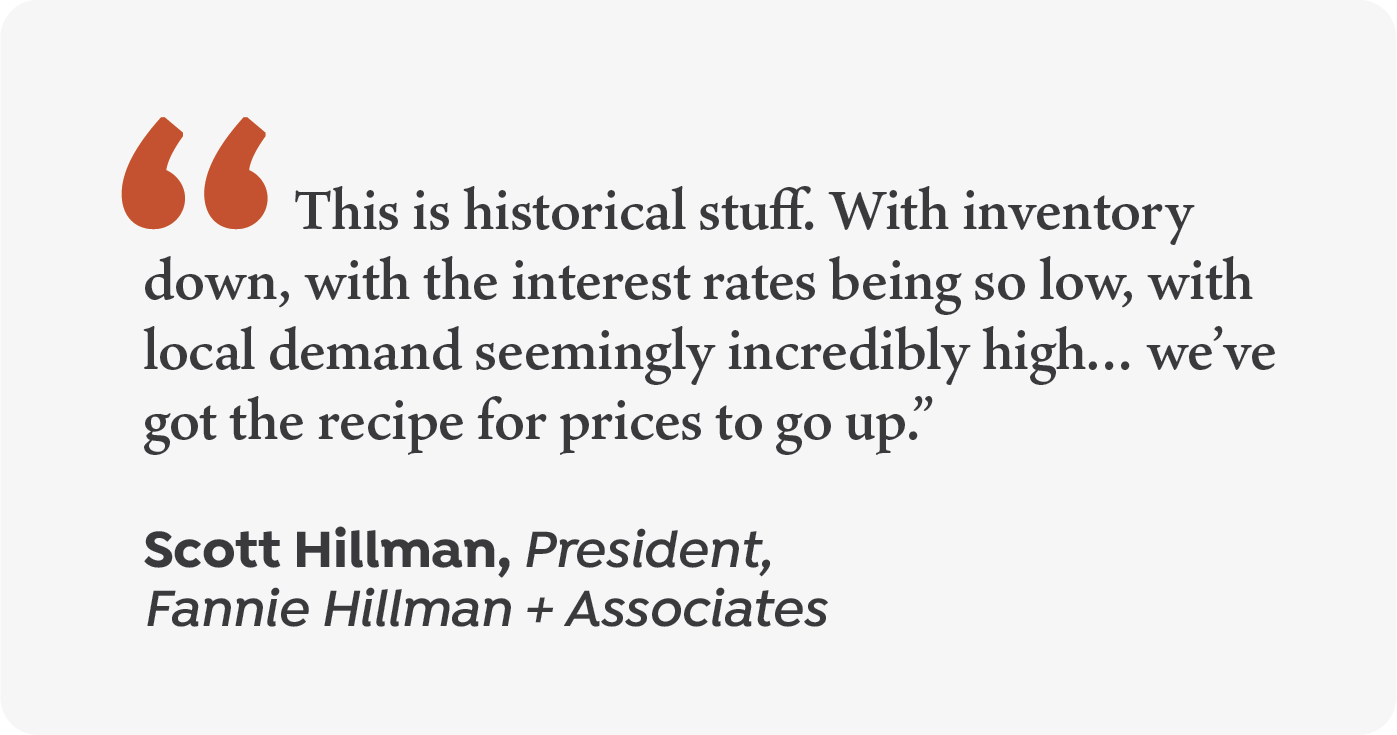 In addition to the low interest rates, out-of-state relocations are also contributing to the boom in Florida's real estate market. As virtual jobs give people the ability to work from anywhere, many are looking to take advantage of living in a state with no income tax. However, Hillman isn't attributing too much of the high demand in Central Florida to this, citing that most out-of-state relocations are to coastal cities.
With interest rates at historic lows, some experts are predicting a downturn, but Hillman is confident in the resilience of Winter Park's real estate market. "You can always speculate that there could be a downturn, [but] I don't see any of the factors or variables pointing in that direction," he said. "If employment doesn't start rebounding a little bit, we may have some issues in the first and second quarters next year… [but] I have a really optimistic belief that we are going to start seeing some rebounding."