Winter Park small business, Ginny's Orchids, is a highly sought-after source for stunning and unique orchid displays. Genevieve Enstad – affectionately known as Ginny – and her husband, Bob, have been Winter Park residents for 40 years, having moved to the area in 1980. Ginny's Orchids offers specialized breeds of orchids to homes as well as retail and commercial buildings and has supplied arrangements to staples of Central Florida such as the SunTrust building, Orlando Magic suite, and Dr. Phillips Center for the Performing Arts.
In 1985, Enstad was mother to toddler, Phoebe, and pregnant with her son, George. She wanted a job that didn't require her to be away from home five days a week and allowed her to spend more time with her children. She was very familiar with the greenhouses in Apopka as well as the Winter Park Farmers' Market and noticed the one source for orchids only sold them in corsage form. Sensing an opportunity to fill that void in the marketplace, Ginny's Orchids was born.
Enstad began sourcing her orchids from a professional greenhouse and selling them every Saturday at the Winter Park Farmers' Market. Her popularity grew quickly, as did the demand for her orchids, and locals could hardly wait until Saturday to pay her a visit. So, Enstad opened her home to clients and allowed them to shop during the week. "I had orchids in my living room, my dining room, my kitchen—they were everywhere, except the bedroom," said Enstad.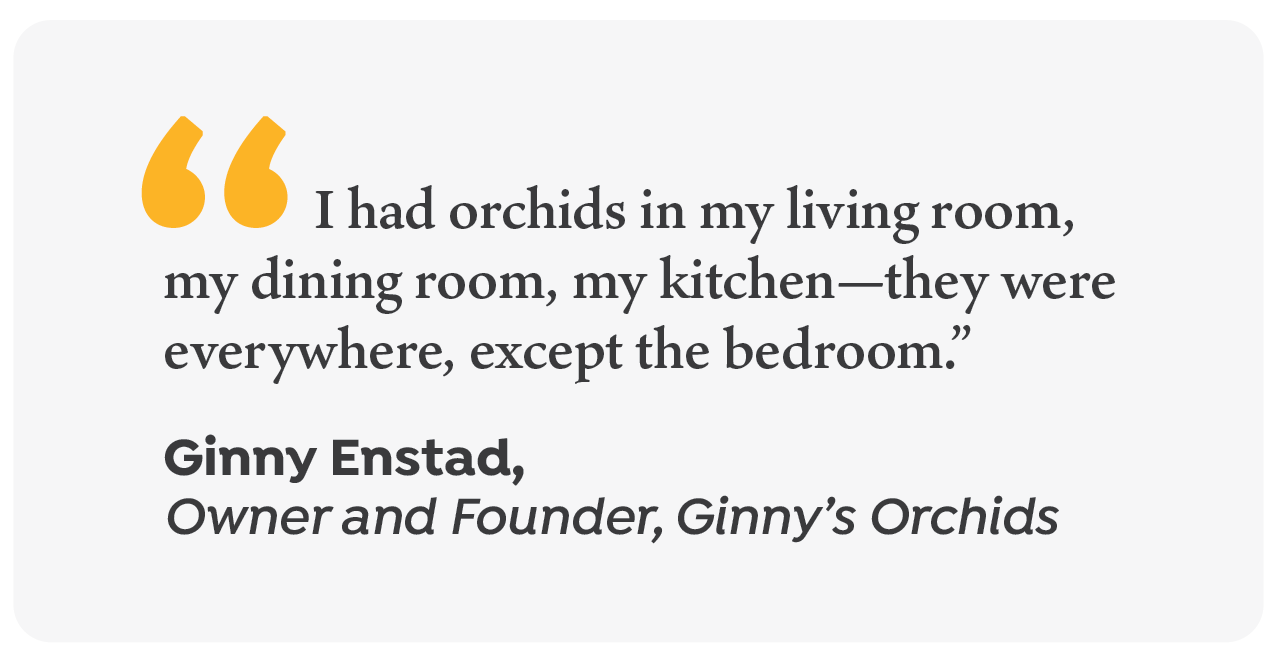 As her popularity grew, Enstad was soon asked to provide orchids as décor for the then-new SunTrust building in downtown Orlando. "My father always said, 'say yes and clean it up later,'" she shared. So, she accepted the offer and took on her first commercial job. Enstad used her double stroller to cart trays of orchids in order to efficiently distribute the numerous flowering plants throughout the building. Since the orchids needed regular upkeep, she would sometimes bring her children with her while she watered or replaced the flowers.
Enstad's children were not the only family members to get involved in the business, though. In 2006, her husband joined her venture. Since then, they have worked together daily. "I call him my secret weapon because he hand-selects every single orchid," Enstad said.
In 2009, Enstad was able to secure retail space for her shop on Morse Boulevard and transfer all the orchids out of her home. She prides herself on creating a comfortable atmosphere for her clients and does her best to supply them with quality arrangements. Enstad loves that her customers count on her to have something different or unique in her shop, and to go out of her way to make the experience special. "Making people happy makes us really happy," she commented.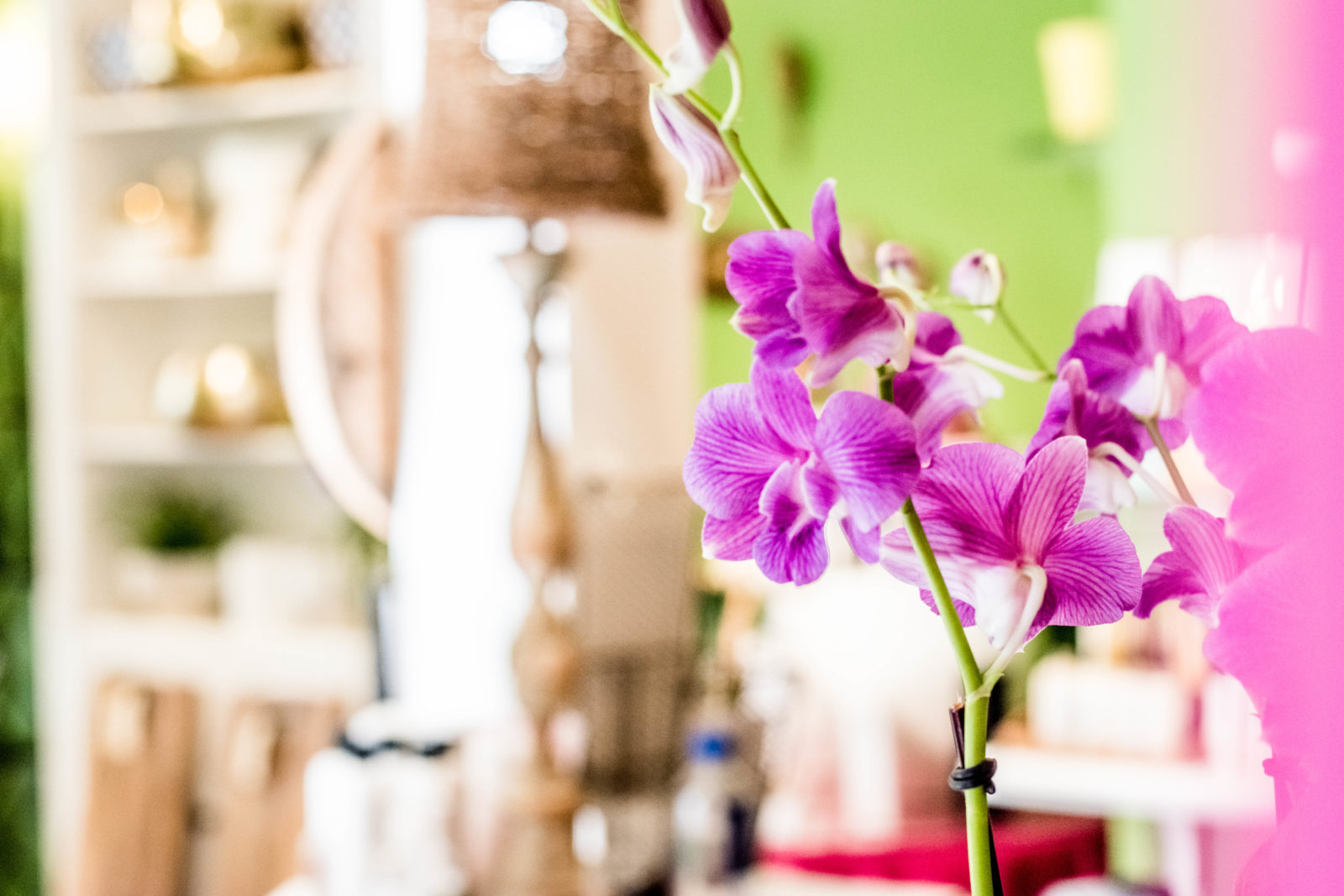 Enstad describes herself surprisingly not as an orchid person, but as an "aesthetic person." She has always admired beautiful homes and décor, having grown up with parents who always had fresh flowers and gorgeous gardens for her to admire. One of Enstad's favorite parts of her job is designing her orchid displays in such a way that perfectly complement their container and room in which they will be situated.
As a result of the COVID-19 pandemic, commercial business has slowed for Ginny's Orchids. However, Enstad has been able to provide delivery service for her customers. "People are home, and they still want their homes to be beautiful," she said. "Sending things is still a big part of our business—sympathy, cheer up, anniversary, birthday," she explained, noting that these events remain whether there is a pandemic or not.
Enstad's vision for Ginny's Orchids' future is simple: keep making her customers happy. "I am so grateful for the people that keep coming back to us. Our customers have become friends and family, and we are full of gratitude for the wonderful people who have come in," Enstad said.
View details on the location and operating hours for Ginny's Orchids, as well as popular arrangements here.