Disruptions caused by the COVID-19 pandemic have impacted the daily operations of small businesses nationwide. Winter Park retailers and eateries are no exception, having made substantial adjustments in order to conduct business safely and survive the financial challenges brought on by the virus. However, a significant dive in foot traffic in recent months, which shopping and dining districts such as Park Avenue are strongly dependent on, has led to the closure of multiple storefronts despite the best efforts of their owners and employees.
On Park Avenue, multiple businesses have closed as a result of the pandemic, including the Violet Clover boutique, Alex & Ani and Sarah Campbell. Origins, another retailer on the avenue, has not announced an official closure, but has not reopened since initially closing for COVID-19 in March. Sarah Grafton, president of Park Avenue District, shared that a large concern for businessowners on Park Avenue is that closures and empty storefronts will further harm foot traffic.
"There have been a couple [businesses] that have reached out to say they are within a two- to three-month range of shutting down if things don't start to turn around," Grafton said. "But then there's others who are in an okay place, but it's not helping them that other places are closing on the avenue because there is less of a draw for people to come visit."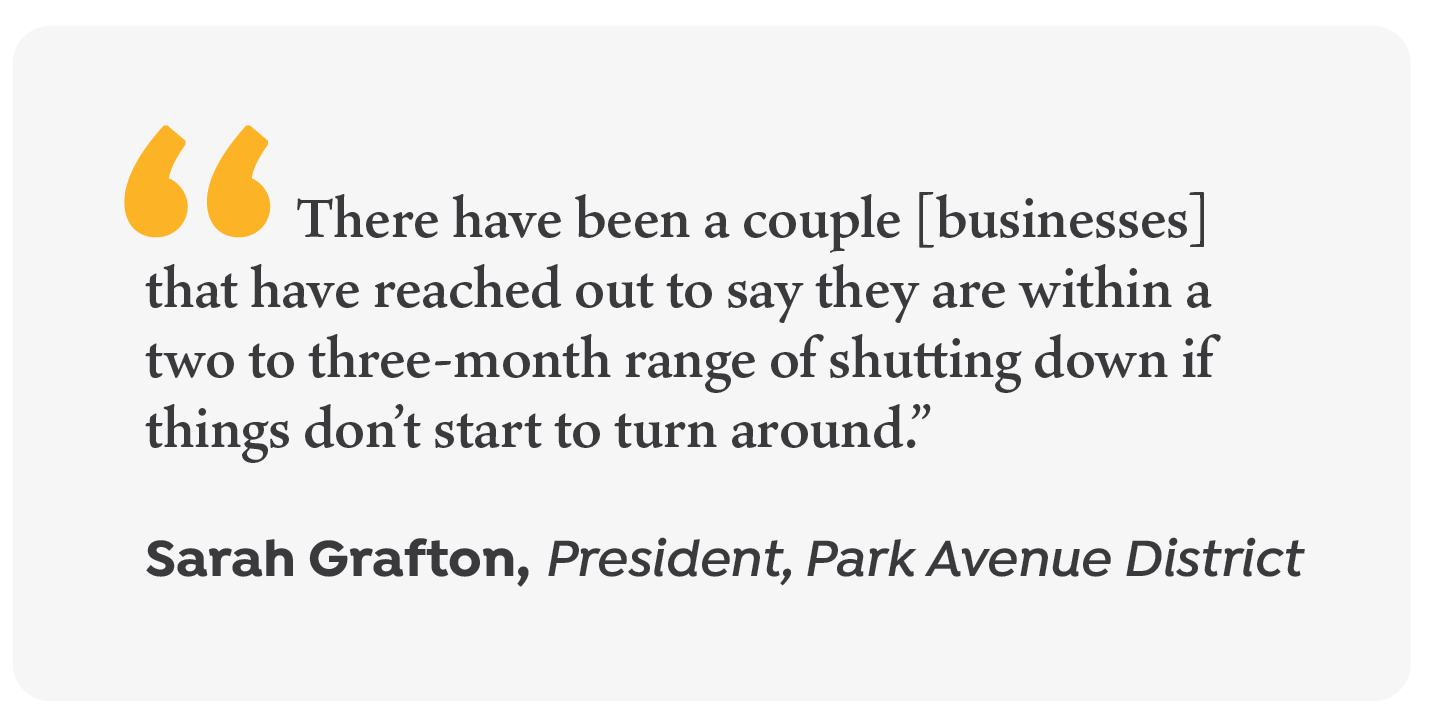 In response to the economic impact on local businesses, community leaders and organizations have taken it upon themselves to help address the challenges being faced. Park Avenue District, for instance, was established in 2019 to support and strengthen the 140 businesses in the Winter Park Historic District. However, the events of this year have led the District to focus its mission on recovery during COVID-19.
"At the point of establishment, we really were focused on marketing, economic impact and driving traffic to Park Avenue, and I would say since March we have completely pivoted to be almost a COVID-response and small-business-recovery organization," Grafton said. "We are coming up with creative ideas to help some of these small businesses, and also providing a place for them to come together and communicate on some of the issues they are having and see how to resolve them."
The District is also helping to fundraise money via GoFundMe that is being allocated as small grants for businesses to use towards utilities and other costs. The organization is assisting with applications for city and county-mandated programs, such as utility relief, and cooperating with landlords and the local government to reduce monthly costs. Park Avenue District works closely with the City of Winter Park and the Winter Park Chamber of Commerce on different strategies and initiatives, such as an upcoming campaign that will establish spaces intended to expand takeout, to-go and curbside pickup for restaurants and shops on Park Avenue and in other areas of Winter Park. This plan is expected to be implemented in the next few weeks.  
The Winter Park Chamber of Commerce, has been integral in identifying challenges and developing strategic solutions for businesses throughout the City. Currently, the Chamber is evaluating long-term impact and strategizing solutions to help businesses in crisis. Recently, the Chamber worked with a local economic consulting firm, The Balmoral Group, to conduct an economic study to evaluate the impact of the pandemic and present strategies for recovery. The study was underwritten by the Edyth Bush Charitable Foundation through the chamber's 501(c)(3) initiative, THRIVE Winter Park, and helped determine the depth of the different affects businesses in various sectors are experiencing.  
"We have quite a lot of challenges, so in this stage we are looking at things such as building capacity. [We are] also helping people understand that this crisis is going to go on longer than they imagined and [helping] them make modifications so that they can capture whatever business opportunities are available within those limitations," said Betsy Gardner Eckbert, president and CEO of the Winter Park Chamber of Commerce.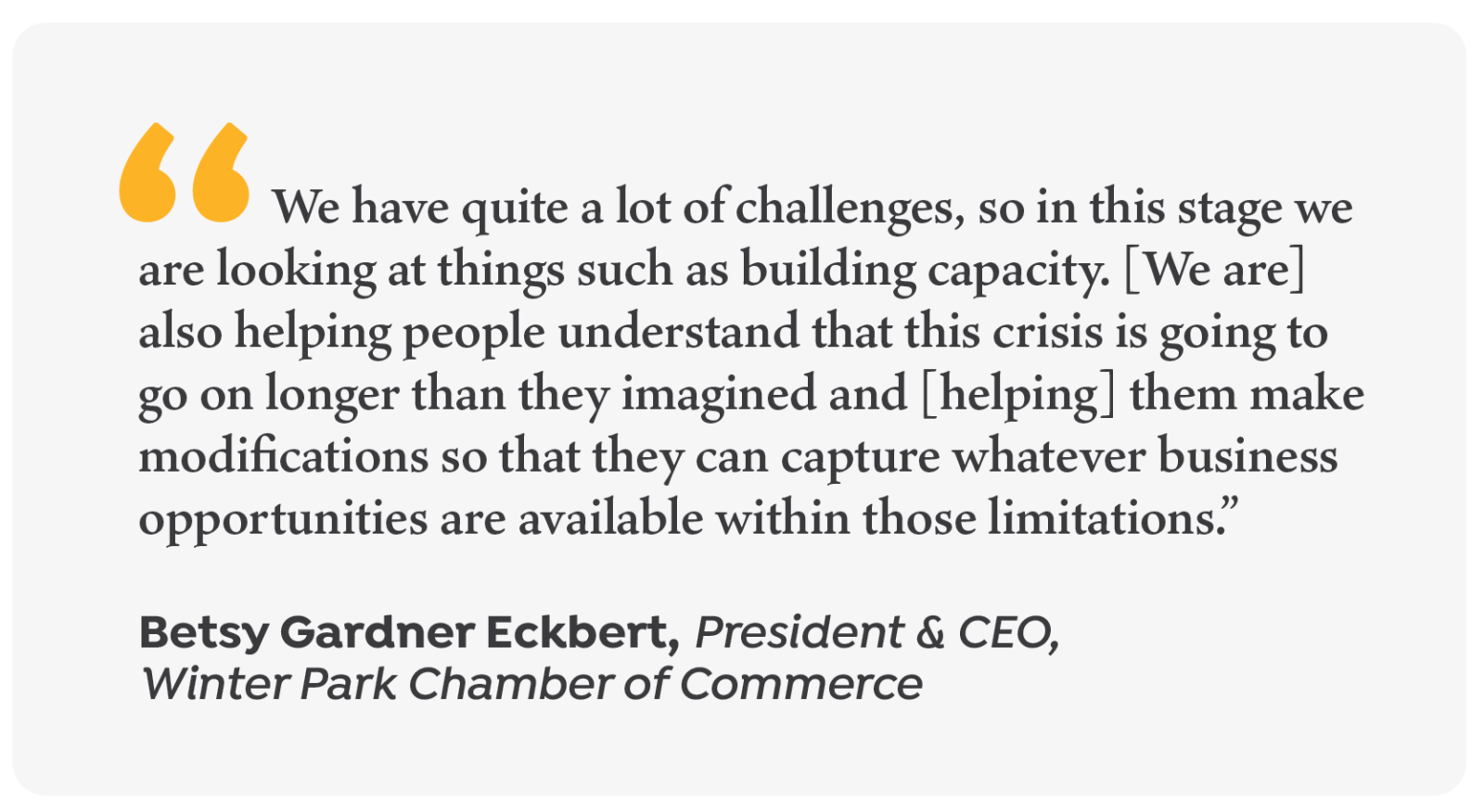 Gardner Eckbert has emphasized the importance of businesses establishing strong online presences to continue engaging their customers. "We have to be able to maintain a presence in front of our customers that is digital while we wait to approach a new normal," Gardner Eckbert said.  
The Chamber is also working toward making changes to current policies that may be presenting challenges to businesses. This effort is user-driven, meaning the Chamber is taking point from local business owners on which policies and ordinances are affecting their ability to maximize operations within the present COVID-19 guidelines. By evaluating these policies, the Chamber can develop proposed solutions and implement them as rapidly as possible. "We are looking to onboard a lot of solutions in the coming weeks and keep working to support the community as needed," Gardner Eckbert said. "If we don't act quickly, then we may not have enough businesses to support."