Over thirty years ago, Hal George, a Winter Park-grown homebuilder, began his company, Parkland Homes, Inc., which works on a variety of real estate deals almost exclusively in Winter Park, including custom new construction projects and renovations. Decades of running his business afforded George a front row seat to observe the evolution of Winter Park, leading him to navigate a successful building career, and help found Habitat for Humanity of Winter Park-Maitland, and remain president of the organization's board of directors since its establishment.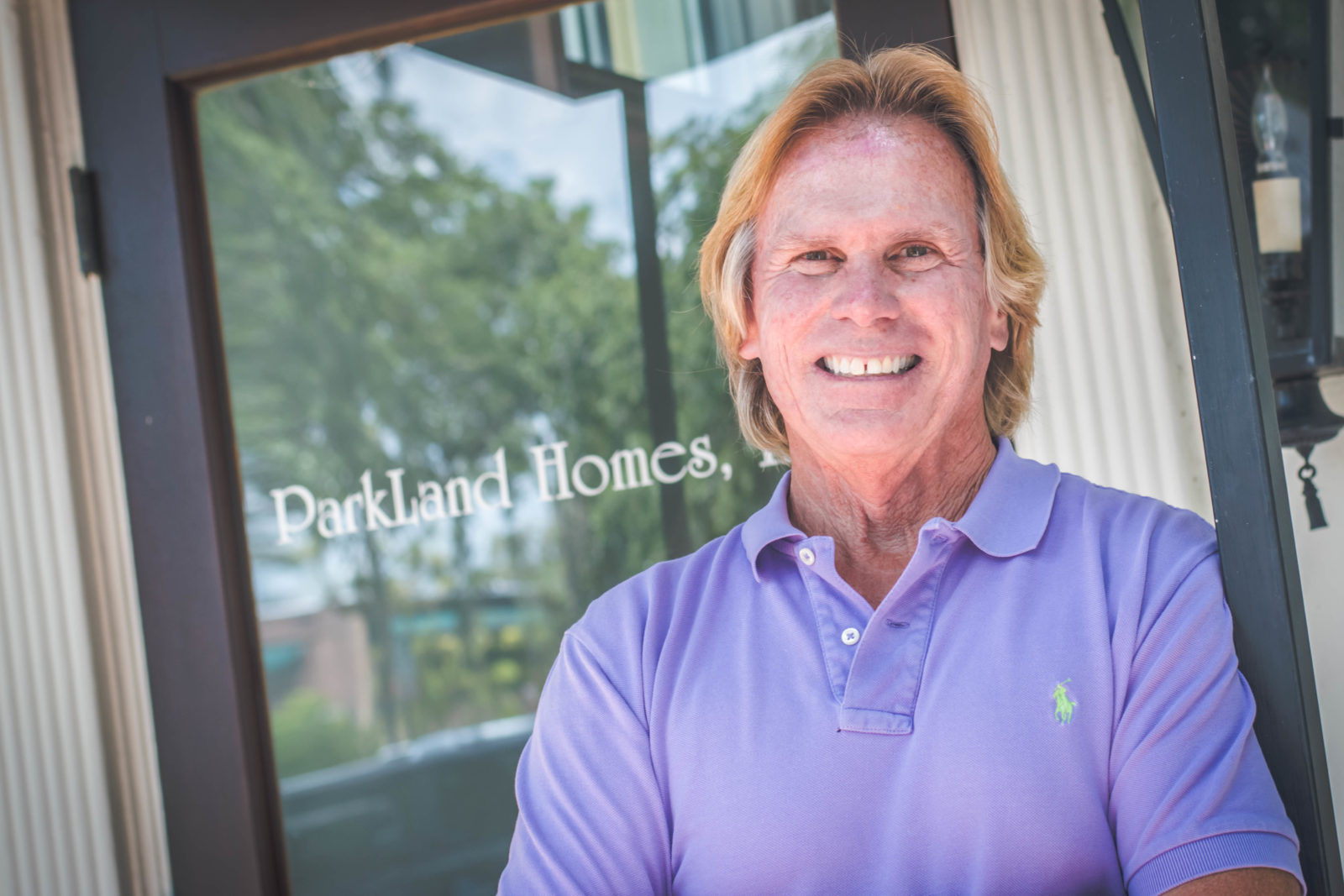 George shared that even through the COVID-19 pandemic the home building industry remained sturdy once construction was deemed an essential service, with low interest rates fueling business. Although some obstacles in manufacturing and delivery have popped up, the market remains healthy, for which George is grateful. "Winter Park is always going to be a destination that people want to live in," George said. "I think the construction aspect of Winter Park will continue to be healthy. We'll have our plateaus and maybe small dips, but typically, at least through the 35 years I've been doing this, we've never really seen it take a huge nosedive without a quick rebound and I feel confident that will continue to be the case for years to come."
In addition to his business, George also engaged his skills and passion for building through decades of community service with Habitat for Humanity, a nonprofit housing organization that utilizes volunteer work and donations to build affordable housing globally. He began by contributing his time to the Orlando flag of Habitat for Humanity and after working on a couple of homes in Winter Park with them, George recognized a need for more affordable housing in the area. In 1993, George helped establish the Winter Park-Maitland affiliate along with other community members, including Thaddeus Seymour, former Rollins College president, and Jeffrey Briggs, City of Winter Park Principal Planner.
"Being a homebuilder and being somebody who has always been appreciative, involved, and concerned in the community I live in, I don't think it should ever be take, take, take," George said. "I think you're supposed to give back to the community as well and I saw that specifically the west side of Winter Park was an opportunity to build some affordable housing. Affordable housing and Winter Park, a lot of times, the two don't connect and we saw there was this need for that."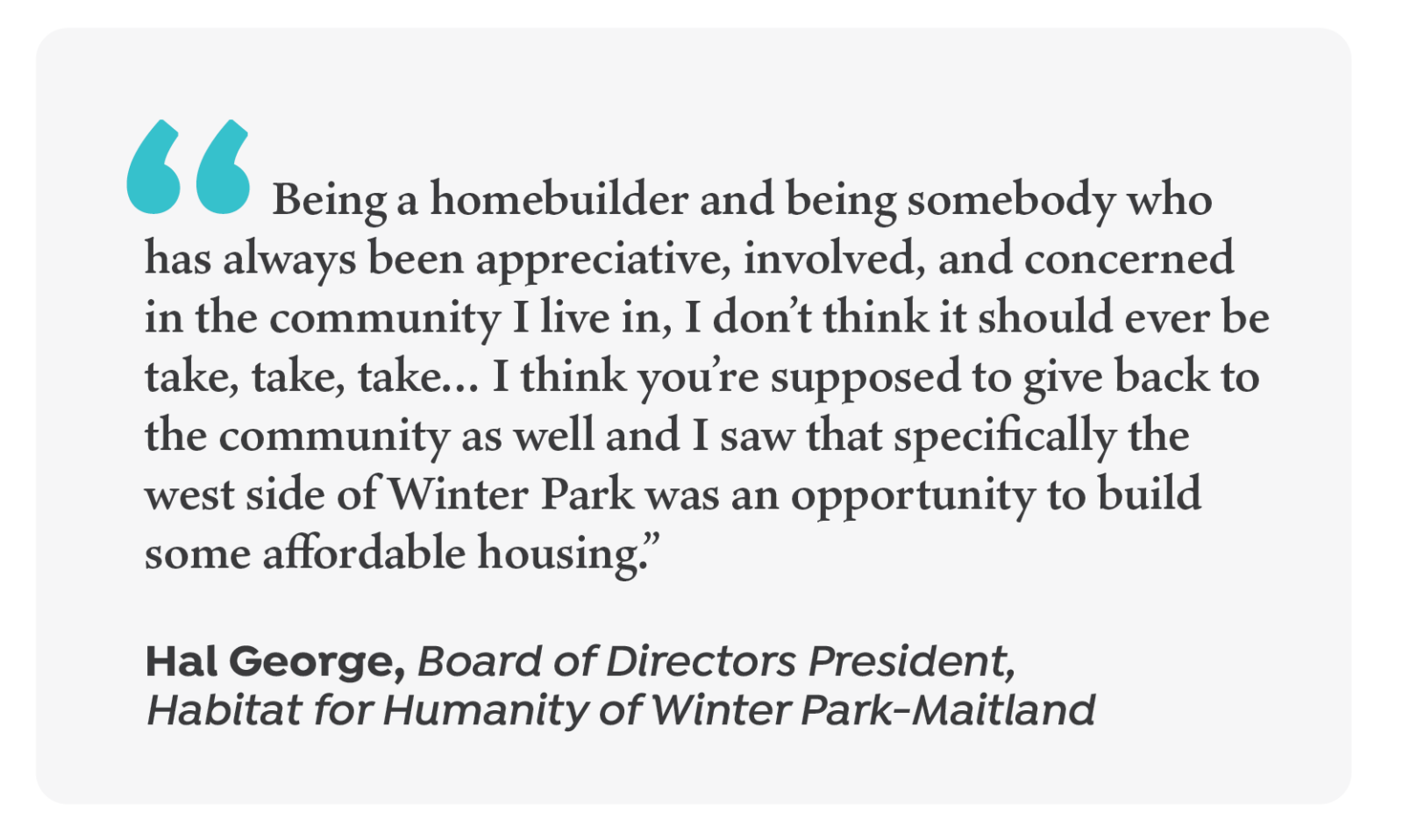 "Hal has done a great job of getting the community involved," said Courtney Kropp, executive director of Habitat for Humanity of Winter Park-Maitland. "One of the things we say at Habitat is that everyone deserves a decent place to live and he's really brought that to life in Winter Park. The involvement for us is really what fosters a healthy community altogether that allows us to deliver our product, which is improved housing for members of our community."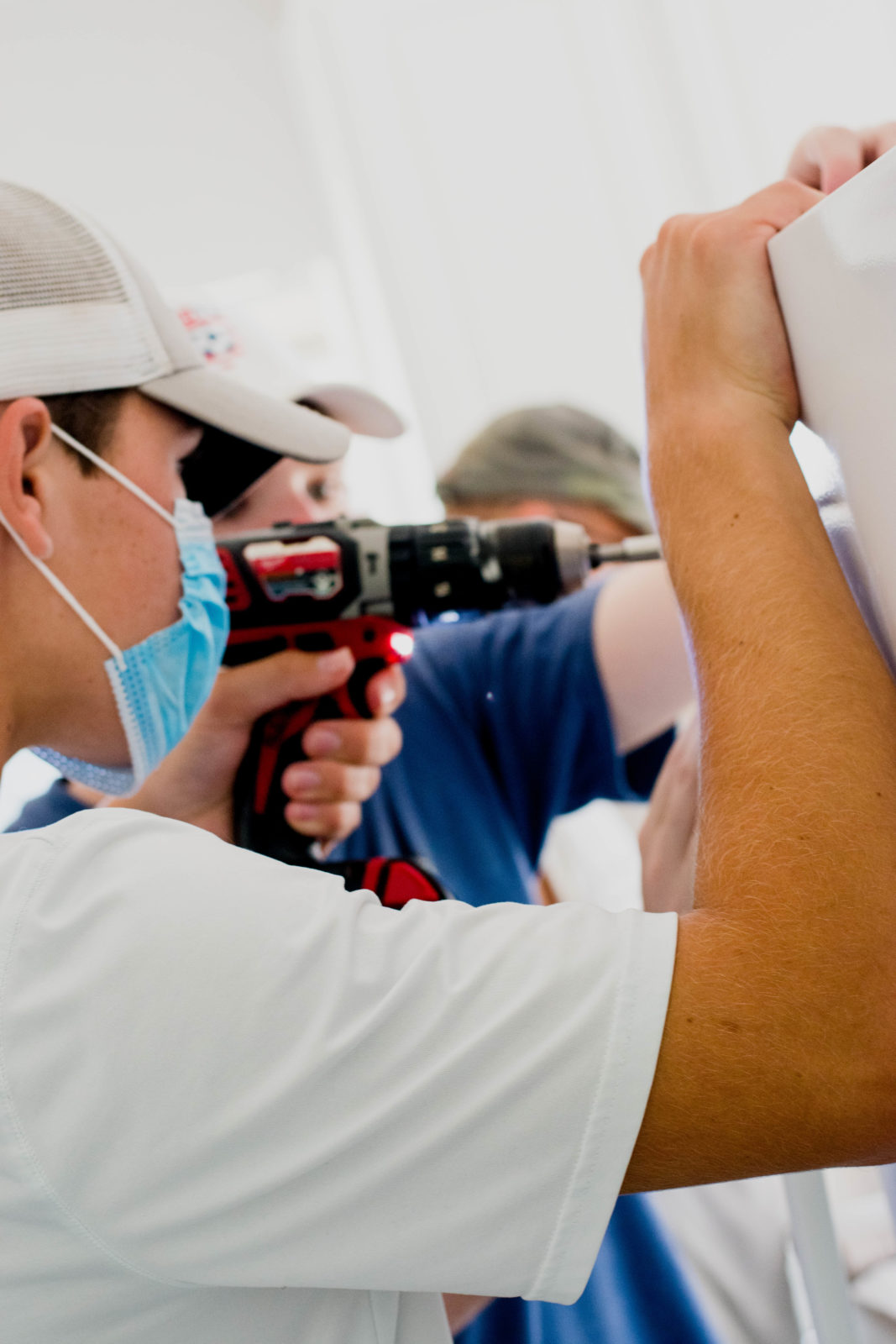 Every Saturday morning, George heads out to the current site with a group of volunteers. Prior to COVID-19, the organization could count on around 35 to 50 people volunteering every weekend to help build. Many of the volunteers come from local schools such as Trinity Preparatory School, Winter Park High School, which has its own recognized Habitat for Humanity chapter on campus, Rollins College, and more. Local churches have also been highly involved with the organization. George reports almost every church in Winter Park has built at least one home and that St. Margaret Mary Catholic Church has helped build over ten homes with the chapter.
"I personally saw it as not only an opportunity to provide affordable housing to families who would not ordinarily have that opportunity to own their own home, but also a wonderful opportunity for people who wanted to be involved in their community and help other people by coming out and helping," George said.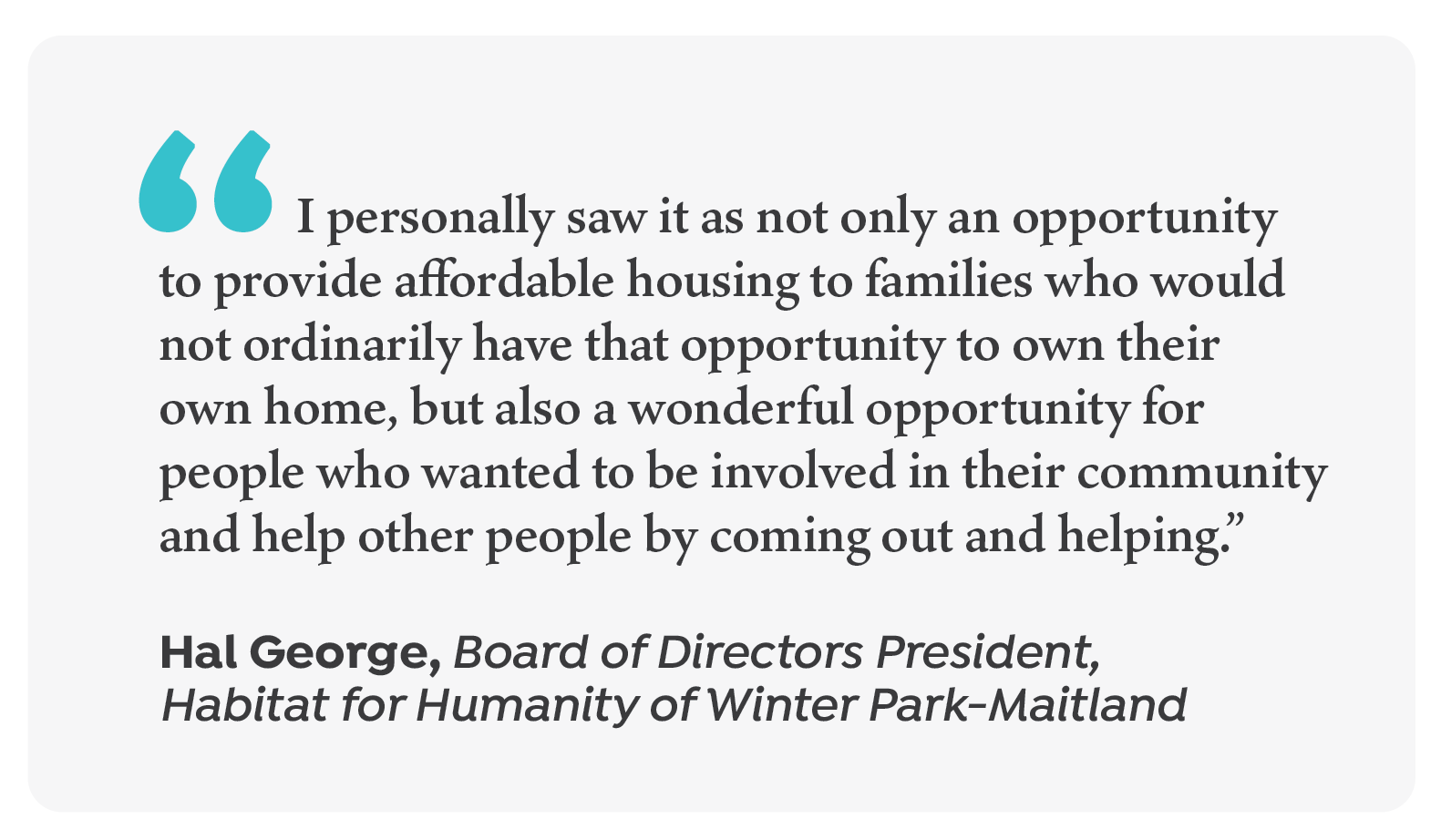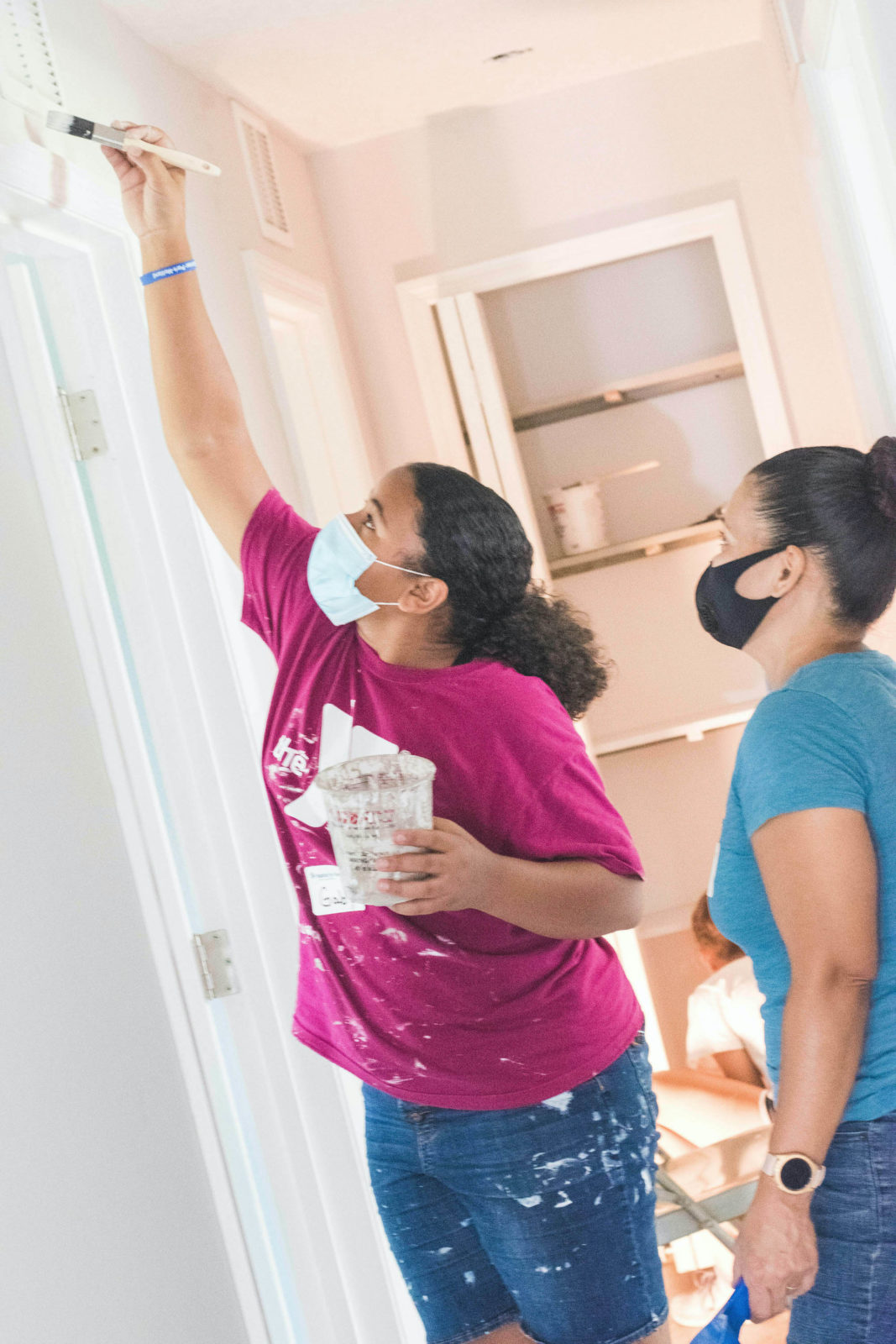 Currently, the Winter Park-Maitland affiliate group is working on building its 56th home, a grand accomplishment for operating purely off volunteer work and donations. As part of the application process for purchasing a home through Habitat for Humanity, applicants volunteer a minimum of 100 hours prior. That volunteer work is applied towards the buyer's down payment. "We're creating future stakeholders in our community because Habitat is not a giveaway or a rental program," George said. "The owners work and buy the houses from Habitat so they have all the ownership rights that anybody does when they buy a house, we just provide the mortgage and ways to make it affordable for them."
A challenge that the organization faces is dramatically increasing property values that make buying the land for them to build on more expensive. "We have been very fortunate and have had a very blessed relationship with the City of Winter Park and their affordable housing fee that they collect on building permits," George said. "We have been able to partner with the City and use that money to be able to get a lot of our land through the years." Despite the assistance the City has provided, land acquisition can still be a struggle for the organization, which is why they are working to develop a plan that will allow them to overcome the obstacle of land cost.
"The biggest goal is that we will find a way to sustain the ability to get land," George said. "Getting volunteers is not a problem, raising enough money to build a house is not a problem. Our biggest challenge is being able to acquire the land, so my hope is to find a way either through a partnership or some other way that we can sustain that program. I think that's doable. It's just going to take some work."