The Waddell House, located at 1331 Aloma Ave. in Winter Park, Fla. has seen better days than in recent months. The structure, built in 1901 and designated a historic home in 2005, is known for its white wood siding, green accents, and its three porches, two of which adorn each story on the front of the home, and the third along the back.
The home originally belonged to William and Cartie Waddell of Wisconsin, pioneers of the City of Winter Park. Mr. Waddell served as what would now be considered a city commissioner and deputy marshal and his wife ran the Osceola Inn. Considering the house's place in Winter Park's history, former owners Charles B. and Lurinda J. Smith, whose family held ownership of the home for over a century, placed it on the Winter Park Register of Historic Places in order to preserve and protect it from lot splitting and demolition.
The home came under new ownership in February 2019 when David and Deborah Dunaway purchased the property for the price of $480,000. The Dunaways bought the property with the intent of making it their forever home and permanently relocating to Winter Park from Tennessee. Prior to purchase, the couple discussed with the City that they planned to restore the home and return it to its original glory, including replacing the unstable porches.
To proceed, the Dunaways were presented with a specific approval process by the Historic Preservation Board. While they submitted an application to begin work on removing the porches, which were deemed unsafe and in need of urgent removal by inspectors, the owners neglected to await official approval before proceeding and moved forward with demolishing the porches in July 2019. In response, the City issued a Stop Work Order on July 15 and insisted that the owners provide formal plans for restoration of the home before doing anything further to the structure.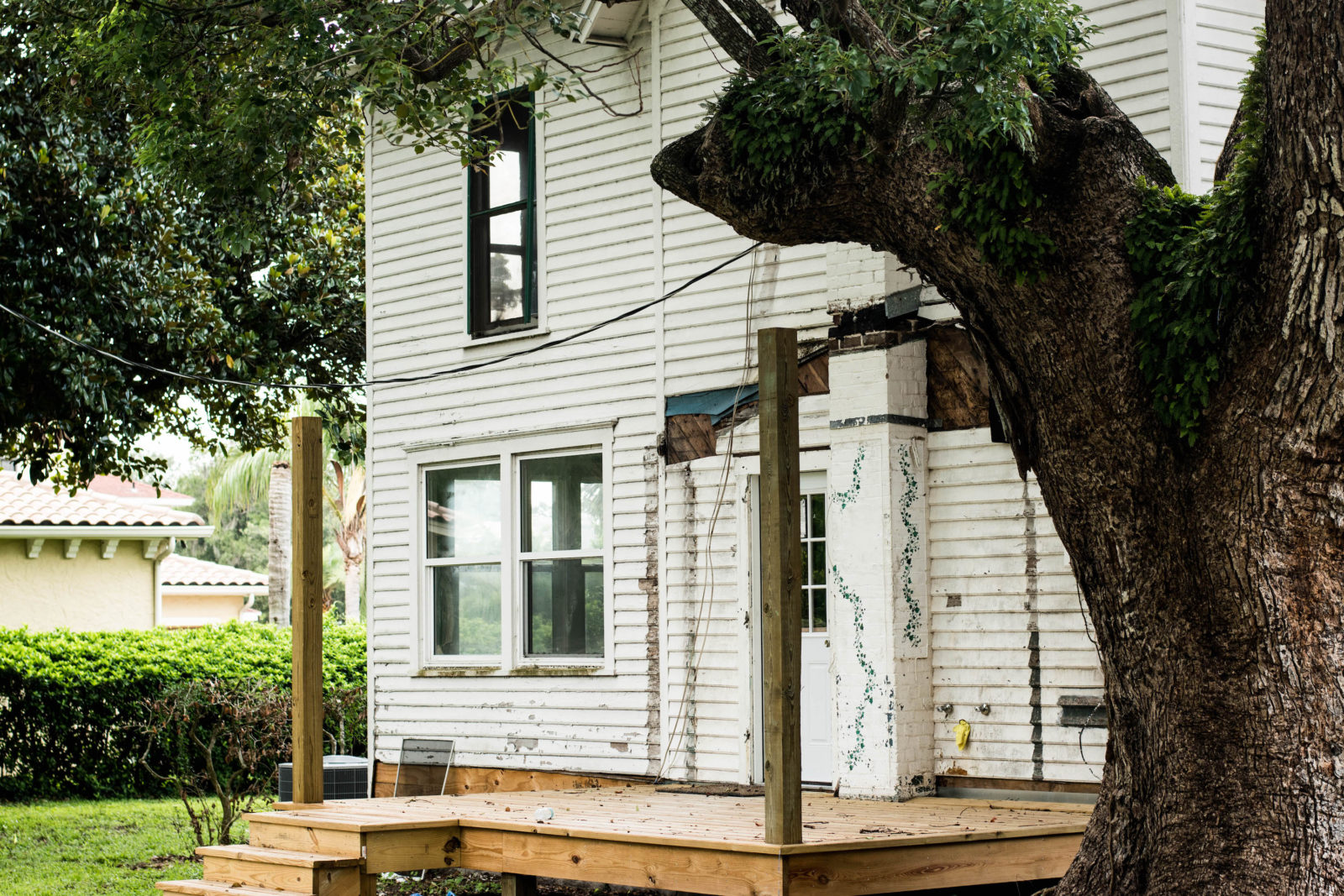 After the demolition, the structure was not properly secured to protect it from water intrusion, causing concerns of further damage. Jeffrey Briggs, principal planner for the City, reached out to the owners requesting that they resolve the issue, but the Dunaways were facing personal matters that caused weeks to go by before the tarps were fastened correctly. There was increasing worry regarding the declining state of the home.
City zoning codes required the historically accurate reconstruction of the home, but after having a structural engineer complete a report, the Dunaways did not believe that would be an economically feasible option. Christine Dalton, a Trustee of the Florida Trust for Historic Preservation, made the case that a restoration engineer should have performed an evaluation instead.
The case was addressed during many official City and board meetings and by early 2020 the future of the Waddell House was unknown due to the Dunaway's personal circumstances preventing restoration. Currently, however, there is hope for the structure to return to its original form. "The City is optimistic that the Waddell House at 1331 Aloma Avenue will be changing ownership with a closing scheduled for July 15th," Briggs said. "The prospective buyer intends to replace the porch which was illegally removed and to also do some additions and renovations to the home. The City is optimistic that the new owner will resolve the current issues and give the home new life."