Winter Park is now home to a new facility for women's health care. The Orlando Health Women's Pavilion, a new care center dedicated to women's health and wellness with roughly 90% female physicians, recently opened in a heavily-traveled intersection of the city. Located near the corner of West Fairbanks Avenue and South Orlando Avenue, the 20,800-square-foot, two-story facility is the first of its kind in Central Florida and potentially the first of many for the not-for-profit healthcare organization.
Orlando Health introduces the inaugural facility to further its focus on the importance of women's health and bring more convenient care options to the Winter Park area. Kelly Nierstedt, senior vice president, Orlando Health and president, Winnie Palmer Hospital for Women and Babies noted the need for the new development and what the Orlando Health team set out to accomplish. "At Orlando Health, we're very committed to making sure we can offer women comprehensive, high quality women's health and wellness services. We want to make sure we have personalized and coordinated services in this women's pavilion. We know that healthcare needs are unique and often a woman's lifestyle has a big factor in how she'll keep herself healthy and well."
Though this is the first women's pavilion for the organization, Orlando Health has a history of catering to women's health. The services offered at the Orlando Health Women's Pavilion span a broad range from primary to specialty care. "The Orlando Health Women's Pavilion is one of the most comprehensive women's pavilions and offerings that I've seen in the country," Nierstedt said. "We wanted to offer care at all ages and stages of life from a primary care perspective as well as specialty care. So, when you look at our service offerings, they're quite comprehensive and hopefully meeting many of the needs that any woman in our community might need as she travels along her journey."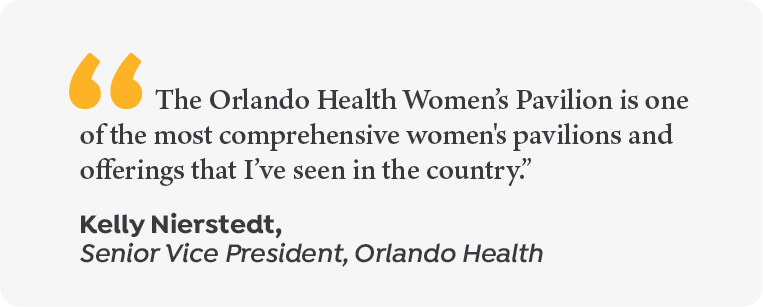 In addition to usual cleaning and sanitary protocol, Orlando Health is implementing specific safety measures at all locations, including the pavilion, in the era of COVID-19. "We want to make sure every time you enter one of our facilities, you are safe. All of our team members are masked and we're requiring our patients to wear masks. We have people walking around wiping down surfaces, and we're screening every patient to make sure that they haven't traveled and to make sure they don't have any signs of symptoms," Nierstedt said. Patients also have telehealth options available through the Orlando Health Women's Pavilion so they can receive care from home.
Orlando Health hopes to be not only a staple in the area for women's care, but also a meeting point for women of Winter Park. "We would love to be able to welcome women's groups. We have a pretty large common area there," Nierstedt said, sharing her excitement for new opportunities and connecting with local leaders and businesses. "In the future, we'd like to hold health and wellness events and see it as a meeting point for women. We want women to know that this is part of their community and we want to be part of the Winter Park community."