Jimmy Ferrell has been a part of the Winter Park community for more than 30 years. Throughout his career, he has founded businesses, volunteered with and fundraised for local nonprofits, served with the chamber of commerce and been active in the faith community. A recent merger is the latest in his string of activities in and around Winter Park.
A lifelong entrepreneur, Ferrell founded Ferrell Wealth Management in 1996, and for the past 24 years, has been offering private wealth management services to the citizens of Winter Park. Last month, Ferrell took his financial service of Winter Park to the next level when he merged Ferrell Wealth Management with California-based Beacon Pointe Advisors ("Beacon Pointe").
The merger, which was made official on March 31, gives Ferrell's team, under the Beacon Pointe banner, a much more comprehensive set of resources to service institutions, in addition to those with private wealth. The company will now be able to consult institutions such as chambers of commerce, foundations at universities, nonprofits and churches – organizations that Ferrell values deeply.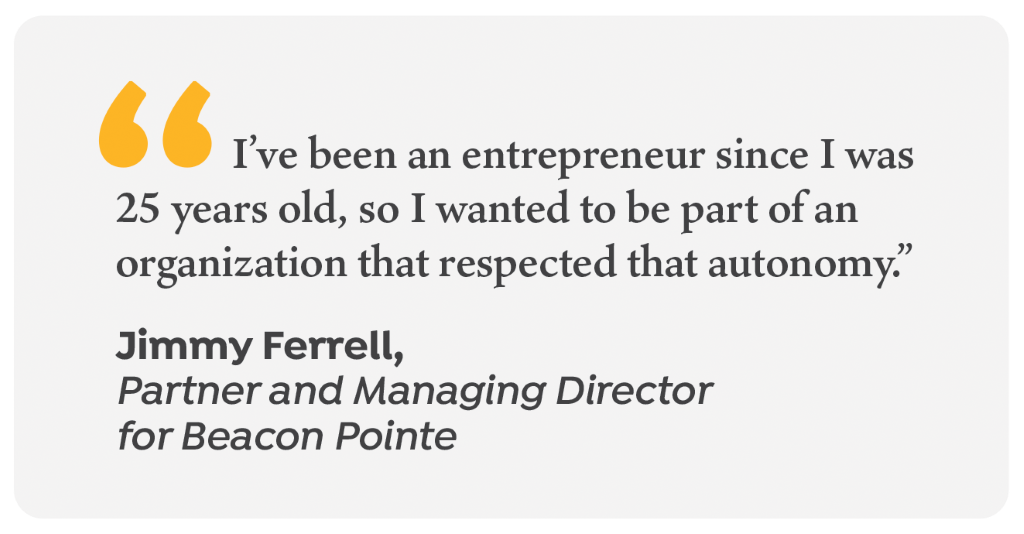 Involvement with nonprofits has been another theme throughout Ferrell's career. Having served as the president of Morning Star Charities for the past 21 years, organizing the annual golf tournament fundraiser for Morning Star Catholic School, and serving for 10 years as the chair of the investment committee for the UCF Foundation, Ferrell's passion for nonprofit work has been evident. "What makes our community great [is] service," said Ferrell. "I always recommend, do things you are passionate about. You'll stay involved in them longer and then you'll be more impactful for those organizations."
Ferrell has also been very involved with the Winter Park Chamber of Commerce, serving as the organization's treasurer for many years, and is on the board of the Center for Advanced Entrepreneurship at Rollins College. He is also a founding board member for Winter Park National Bank.
Ferrell explained the merger would help to expand and deepen his offerings locally. "We have a lot of smaller foundations and nonprofits in the area, and Beacon Pointe has the depth of services to be able to serve those," said Ferrell. "[Beacon Point] is also not too big that they can't bring a personal touch." He added, "It's a good combination having the local [Beacon Pointe] team working with deeper resources supporting [foundations and nonprofits]."
The merger also gives Ferrell's team access to all three major custodian referral networks (Charles Schwab, Fidelity Investments TD Ameritrade) for private wealth clients. Prior to merging with Beacon Pointe, Ferrell Wealth Management only participated in Charles Schwab's referral network.
In addition to its extensive institutional wealth management services, Beacon Pointe also offers the Women's Advisory Institute. According to Beacon Pointe's website, the program is designed to "provide female clients and their families with peace of mind and the ability to meet their long-term life and legacy goals."
"There isn't anything unique like that here in Winter Park," Ferrell said of the Women's Advisory Institute. "It will complement some of the other organizations [in Winter Park]… That is a differentiator and a unique asset that Beacon [Pointe] brings to the table."