Julie Wordell, a longtime Winter Park resident and wellness enthusiast, has signed an agreement with California-based Perspire Sauna Studio to open three infrared sauna therapy studios in Central Florida, the first of which will open in Winter Park.
A ten-year resident of Winter Park, Wordell is a former public relations professional. After taking a step away from her career for a few years to start a family, Wordell started to feel the entrepreneurial bug. In 2014, she started a stationery company in Winter Park called "The Prints & Paper of Winter Park," which she ran for five years.
Running The Prints & Paper Company of Winter Park helped Wordell connect with the Winter Park community in a meaningful way. "Being out and about with that company was a really nice way to really get to know our beautiful city and get to know a lot of the residents who live here," she said.
After five years with The Prints & Paper of Winter Park, Wordell was ready for something bigger. So, she and her husband started looking into franchising opportunities.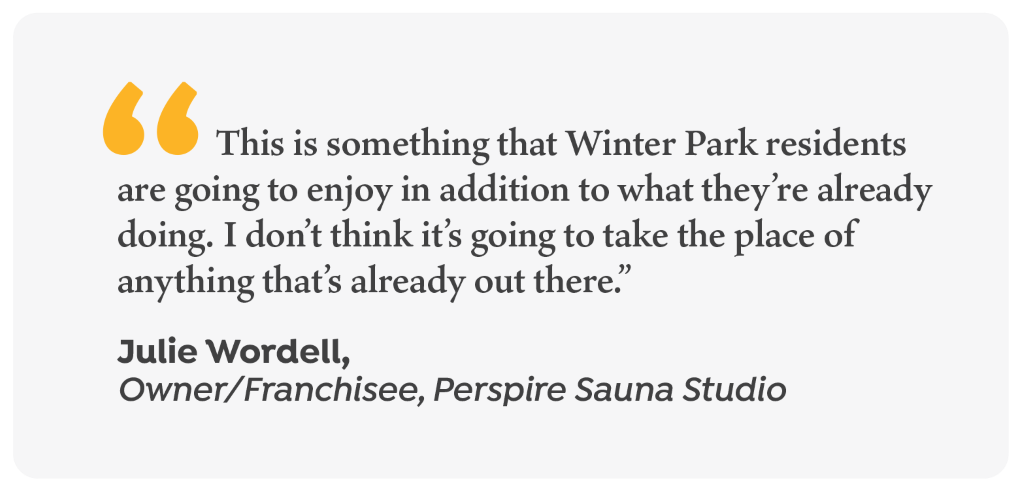 After hearing from a friend that Perspire Sauna Studio was looking for franchisees, Wordell, who is a self-proclaimed health and wellness enthusiast, wanted to hear more. She booked a trip out to California for a "discovery day" with the company and was instantly hooked.
"It aligned with what I believe in, a holistic wellness approach to life," said Wordell. "I'm just one of those people who has always tried to live a healthy lifestyle. I've now transferred that into my family. It's everything from the way we eat, to the way we exercise, to the way [we] integrate our family time."
Wordell said that when she met the Perspire Sauna team, "it was a clincher."
According to Wordell, the primary purpose of infrared sauna use is detoxification and muscle recovery. It also increases circulation, burns calories and helps with skin cell turnover, the continual process of replacing shedding skin cells with younger ones. The saunas in her studio will be equipped with full-spectrum infrared heat waves that penetrate deep into the body, as well as chromotherapy technology that uses a full spectrum of colored lights.
With many other niche fitness concepts in the area such as Row House, East Coast Floats, Barre3, Crossfit Winter Park and others, Wordell sees Perspire Sauna Studio as the perfect complement to other fitness and wellness activities. "This is something that Winter Park residents are going to enjoy in addition to what they're already doing. I don't think it's going to take the place of anything that's already out there," she said.
The reality of opening a business amidst a pandemic is not lost on Wordell, and she sees the timing of the opening as a silver lining, "I think post-pandemic … this is going to give Winter Park residents an exciting thing to look forward to." She also sees the private nature of individual sauna rooms as something that will be attractive to customers looking to get out of the house while also practicing social distancing. "People can feel comfortable coming into an environment where they're not in a room with anyone else and they are doing good for their body in a space where they can feel protected." She added, "generally speaking, viruses can't live in an environment that is above 110 degrees, and our saunas are set between 135 and 155 degrees … so people can rest assured that they are going into a heated environment where generally viruses can't survive." The studio will also follow a very strict cleaning regimen, adhering to everything the CDC is recommending and more.
Wordell's 1,900-square-foot studio, located in Winter Park Corners at 1903 Aloma Ave., Suite A., will feature 10 private infrared sauna rooms, each constructed out of antimicrobial and antibacterial cedar.
Wordell is an active volunteer with Family Promise of Greater Orlando, and her husband serves on the board of trustees for Trinity Preparatory School. Her involvement in the Winter Park Community heavily influenced her decision to open the first Central Florida Perspire Studio in Winter Park. "I did have to build a case for Winter Park," said Wordell. "I told [Perspire] that this was where the first location had to be in order for me to do this. There's been no question in my mind that it was the right choice to open here first."
The location is currently offering "Founding Member" membership options at a reduced price. Those interested in staying up to date on Perspire Sauna Studio can sign up for the Perspire Newsletter.