For the first time in seven years, a Class-A office building is opening in Winter Park's Hannibal Square district. Construction on the approximately 25,000-square-foot building is set to be completed over the next few weeks. The new development features surface and secured underground parking, balcony space, and interior noise cancellation.
The building will serve as the new headquarters for majority tenant, AndCo Consulting, an institutional investment consulting firm serving clients nationwide. Additional tenants include: One Florida Bank, a retail bank, and wealth management firm Bank of New York Mellon. Only one space, a 6,000-square-foot office, remains available for lease.
Dan Caligiuri, executive managing director of the Newmark Knight Frank Orlando office, represented AndCo in the identification and acquisition of the land parcel in addition to leasing management. "This project demonstrates that regardless of the current economic circumstances, there is still flight to quality," said Caligiuri. "Exceptional companies look for exceptional places to establish their offices. And this proves that."
Caligiuri noticed a high level of interest from the wealth management industry and sees this as a signal of the industry's recognition of Winter Park's affluence. "Winter Park attracts a different type of owner and occupier, primarily because of the demographics of the area. They benefit from proximity to the32789 ZIP code."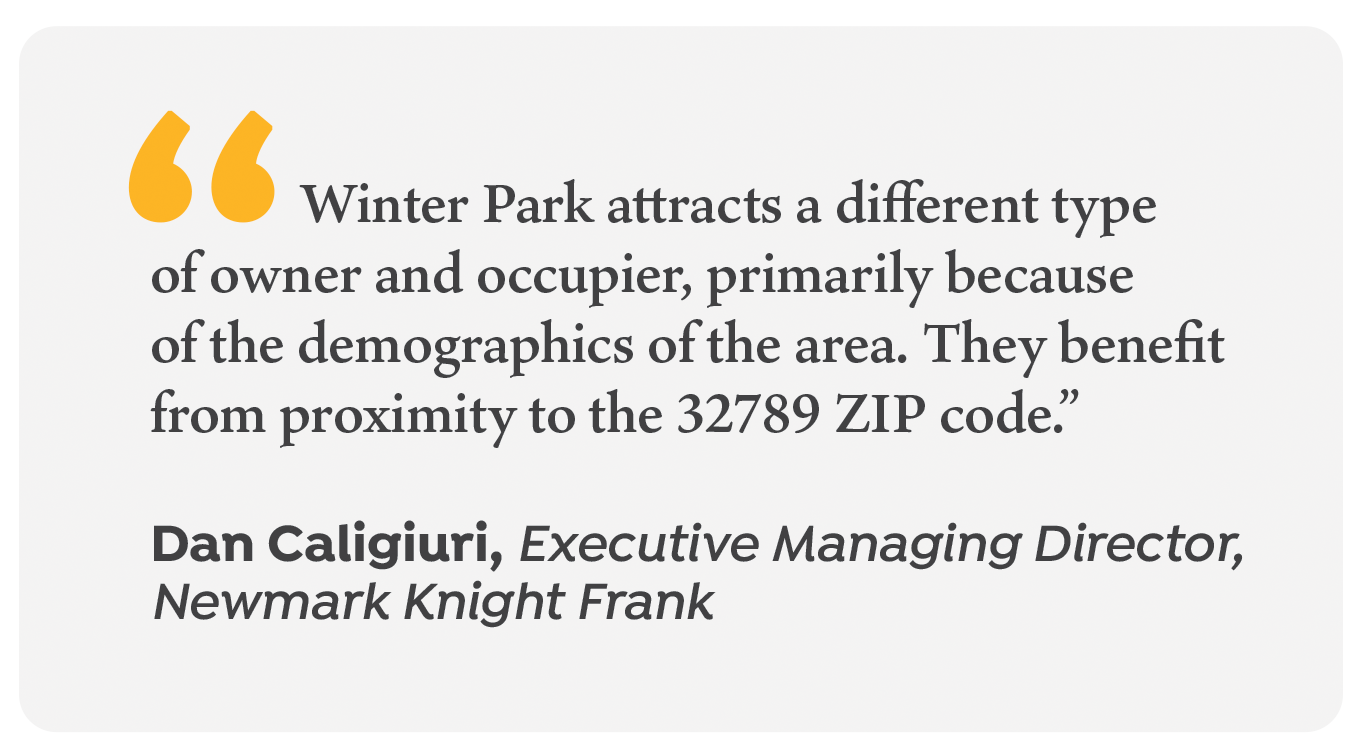 The building is conveniently located within walking distance of Park Avenue and the Winter Park SunRail station. "We have people coming into our offices from around the world," said AndCo CEO Mike Welker. "And having them stay at The Alfond [Inn], and having them walk down Park Avenue, and then having them come to our office — we really think it'll help our brand. We think it'll help any tenant's brand."
Although the property was always zoned for commercial development, plans for the building were initially met with some resistance from neighboring residents, who raised concerns over issues like parking and traffic to the Planning & Zoning Committee. As a result, O'Tay LLC, the building's developer, launched a community outreach program before taking their plans back to the city commission. Welker, who is also managing partner at O'Tay, reflected on that process. "Construction is never easy, and when you're going underground and there's heavy equipment, it can be frustrating [to neighbors]. We tried to really be a good commercial neighbor and listen to the frustrations and concerns of the residents… A lot of what we ultimately did for the development was included based on what [they] wanted to see."
A notable feature of the building is its underground parking. 60 of the building's 100 parking spaces are located below ground, an expensive and often cost-prohibitive construction feature. Caligiuri explained that this undertaking was necessary in order to "make the economics of the project work," while meeting the city's parking ratio requirements.
The building will not only be unique to the Winter Park submarket, but to the entire Orlando metropolitan statistical area. It is located on 531 W. Morse Blvd., on the northeast corner of Morse Boulevard and Pennsylvania Avenue.