Earlier this year, Winter Park-based non-profit The First Tee of Central Florida named Scott Spragg its new executive director. A position he describes as "a natural, wonderful fit," Spragg sought out the career change early this year, bringing his extensive history in leadership and the financial services industry. "When I found The First Tee, I was at a stage in life where I really wanted to give back more and wanted to see what the non-profit world had to offer," Spragg said. As the non-profit's executive director, his responsibilities include managing fundraising efforts, partnerships and community relations, and administration-related duties.
Though its office is located in Winter Park, The First Tee of Central Florida's reach extends to Orange, Osceola, Seminole and Lake counties. Spragg is especially thankful for the support shown by the Winter Park Golf Course as well as the entire community. "The Winter Park community has been good to us. We have a great appreciation for the citizens and the team at the Winter Park 9."
The First Tee of Central Florida is a chapter of The First Tee, an international non-profit helping young people build and enhance personal and life skills through the game of golf. The First Tee pursues this mission on golf courses, in schools and in afterschool programs. In 2019, the Central Florida chapter reached 94,000 children through these initiatives.
Due to COVID-19's impact on the organization's typical operations, Spragg has had a unique experience in getting acclimated to the new role and industry. Face-to-face golf programs are currently paused but are presumed to reopen in June for summer programming. In the meantime, participants can access materials online, including live sessions modeled after the face-to-face program. Though he's had an untraditional introduction to the role, Spragg appreciates all that he's learned from the unusual circumstances. "My first few months have been unique, needless to say, but the great news is it's given me an opportunity to learn a lot about The First Tee, our chapter and fundraising overall."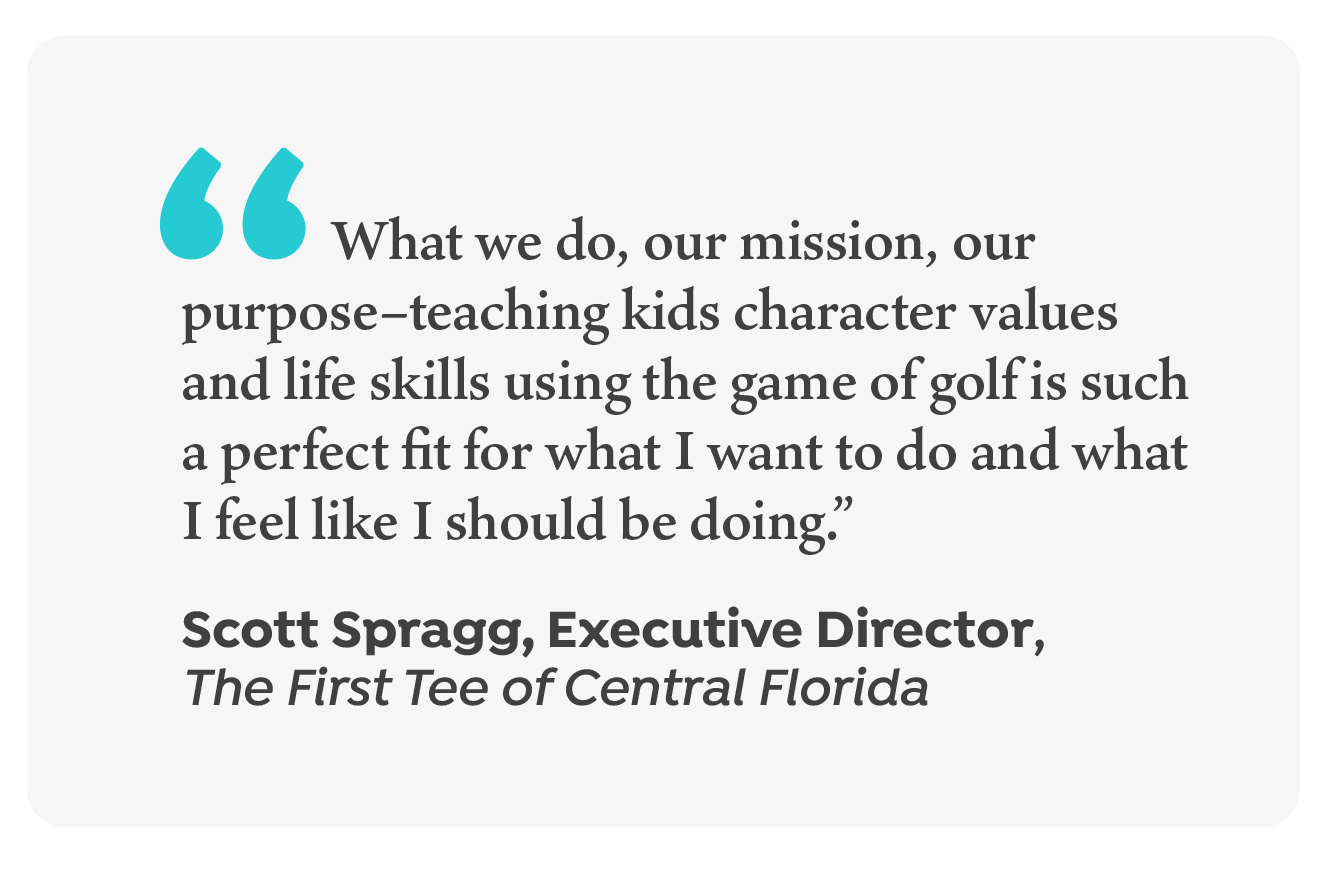 As for the future of the chapter, Spragg's overall goal is to continue growing the organization's reach so it can positively impact more young lives. Because of his love of the sport and his passion for helping children and families, Spragg has a deep connection to his new role. "What we do, our mission, our purpose–teaching kids character values and life skills using the game of golf is such a perfect fit for what I want to do and what I feel like I should be doing," Spragg said recalling his excitement upon landing the role of executive director. "I think God put this right out in front of me and said, 'You ask, and I deliver.'"